Kristina Cho has vivid childhood memories of the scene at her grandparents' Chinese restaurant in Cleveland, Ohio. It was the kind of place where literally everyone in the family chipped in to help.
"I remember growing up, all my aunts and uncles and my mom had full-time jobs elsewhere working at hospitals and banks—you know, very normal professional jobs. But they would still come to the restaurant after work," Her mother was an all-around talent. "She would do everything," Cho said in a recent interview, from hostessing to making drinks at the bar to being the carry-out runner. "I just remember my mom zipping through the restaurant constantly, even though I knew that she was working at the hospital, like 40 hours a week."
Her maternal grandparents immigrated to the United States from Hong Kong in the late 1960s and later decided to open a restaurant to support the family. Her family members worked hard to keep the American dream going.
Cho's family instilled in her a love for food. She recalls regular childhood trips with her grandfather to get dim sum, the Cantonese brunch meal that typically serves bite-sized treats with tea. "When we would order things, he would whisper in my ear and explain" what the different dishes were. Later, while researching for her cookbook, "Mooncakes & Milk Bread: Sweet & Savory Recipes Inspired by Chinese Bakeries," she discovered a little more about her family history: her grandfather's first restaurant job was as a baker. The job was a step above dishwasher in the kitchen. "It also was a rare station, because few Chinese restaurants served desserts beyond fortune cookies and sliced oranges. He spent day after day making endless trays of his golden, almond-studded cookies," Cho writes in her cookbook.
Grandpa's Influence
This discovery also held special significance—her grandfather's background as a baker meant that her passion for baking had a family connection. "When I was writing the book and I learned a little bit more about my grandpa's baking journey, it made me feel like, 'Oh, there's some type of connection there.' I'm not the first baker in the family. My grandpa actually did it first," she said.
Cho writes in her cookbook that her grandfather, who passed away several years ago, once made his family-famous almond cookies for her before she left for college; the cookbook includes a recipe for the treats as she remembered from that day baking with her grandfather. She also turned to her grandmother for help developing recipes for traditional Chinese desserts (which are often steamed, not baked), but she wished she learned more from her grandfather. "Looking back at it, I wish I took better notes to fully remember how to do this stuff. He always had a mind of tinkering and figuring out how to do stuff. I definitely took that with me as I got older and went through different career paths and ended up doing what I do now," Cho said.
She wasn't always a baker; she trained to be an architect and moved to San Francisco to work as a designer for several firms. But being an architect did not satisfy her creative energy the way baking and cooking did. In early 2017, Cho started a blog called "Eat Cho Food," creating recipes inspired by her family's Cantonese cooking and developing her own twists on her favorite foods.
Unique Flavors
"Mooncakes & Milk Bread" is a compilation of her inventive projects, as well as an homage to the Hong Kong-style bakeries that are a fixture of Chinatowns across the country. Owing to over 100 years of British rule, bakers in Hong Kong adopted Western baking traditions, creating pastries, biscuits, and cakes "using the ingredients they had access to and incorporat[ing] flavors and ingredients more aligned with the Asian palate. Sugar levels were reduced, cakes became lighter, and ingredients like black sesame seeds and mango worked their way into everything. Thus, the classic Chinese bakery style is a quirky melding of Western and Eastern cultures," as Cho explained in the book.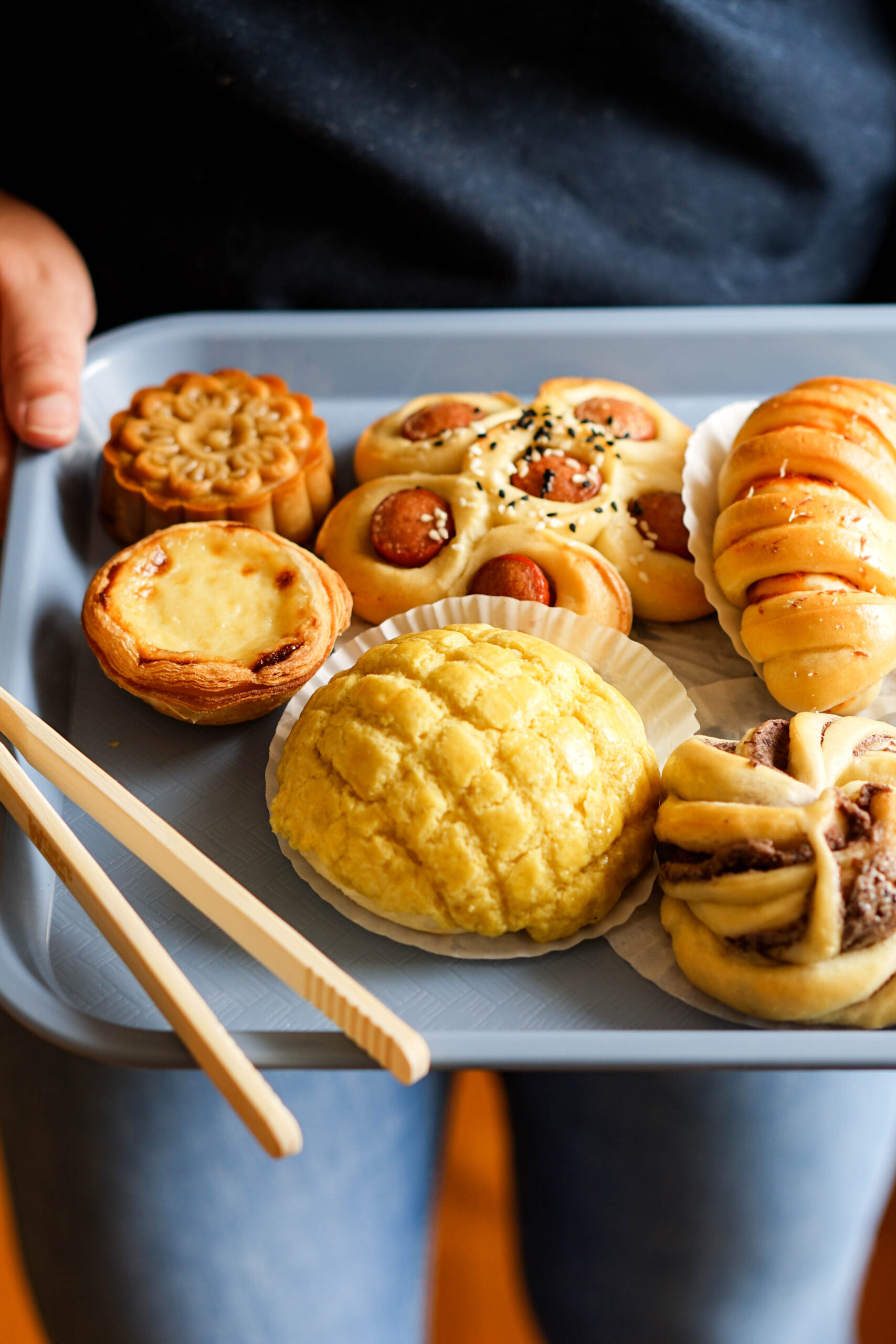 Cho said that this is similar to how bakers in America use the ingredients native to their region. "[They] are adjusting their recipes and flavors to wherever they are. So did the bakers back then in Hong Kong. Instead of using cream or butter, maybe they'd use coconut milk or lard, because that's what they had, you know? So they adapted it."
Cho melds East and West in her recipes, too, with fun takes on classic Western pastries like black sesame souffle cheesecake, Asian pear turnover, and Thanksgiving "guabao" with leftover turkey, brussels sprouts, and cranberry sauce sandwiched between steamed buns. Sometimes, she celebrates her Midwest upbringing; the book includes a recipe for "pepperoni bread," what she calls "an Ohio delicacy": pepperoni stuffed into a roll. Her version uses milk bread, a fluffy bread made with "tangzhong," a roux of milk and flour.
Cho also pays tribute to pillars of her Cleveland community who are not blood-related, including Auntie Lydia, a close family friend. Cho's grandmother first got to know Lydia through the latter's mother-in-law. "After living in Hong Kong and immigrating to Cleveland, she hung on tightly to the practices she'd learned from her own family and found Lydia's mother-in-law's food comforting and familiar. Over decades, the three of them bonded in the kitchen as they gossiped, swapped recipes, and made enough food to feed their loved ones and more," Cho wrote in the book—noting that without Auntie Lydia, her grandmother may not have learned to make some of the traditional recipes showcased in the book.
The baker expressed gratitude for these keepers of important food traditions, too. "I'm thankful that someone like her exists in our small Chinese community and continues to carry on the history, culture, and recipes for future generations. It's not only the bakeries and restaurants carrying on our food traditions—it's also the quiet home-cooks and Auntie Lydias of the world," Cho wrote.