Of all my 10 uncles, Uncle Bob was my favorite. Not only was he the family historian and a talented writer, he was the quintessential family man who involved his family in every aspect of his life, including his life's work—operating a very successful greenhouse that has remained in his family for almost 50 years.
Upon his death in 2014, my Uncle Bob's granddaughter Amanda memorialized him perfectly. She offered her hand and said, "Shake my hand. For when you do, you'll have shaken the hand that shook the hand of the man who planted many seeds, watered and cared for them, and watched with eager eyes as they spread throughout the world. Take my hand and you'll have grasped the hand of the man who cultivated a beautiful garden of life."
My uncle was born in Minnesota, one of eight children. Most families were close back then, and his was no exception. This deep sense of family loyalty and service proved to be a guiding light throughout his life. As a young man, Bob helped an uncle who owned a small greenhouse in North Dakota, and his charismatic personality and strong work ethic undoubtedly served him well even at a young age.
Years later, he would refer to his life's work as "people business."
Bob took basic science courses in college and later served in both World War II and the Korean War. He married Clare, the love of his life, and together they had nine children. Working in a greenhouse was in his blood, and after the war, he advertised in a national florist magazine for a business. After receiving almost 100 replies to his ad, his dream of owning his own business soon came to fruition. In 1972, he purchased a small greenhouse in Centerville, Iowa, that would become his life's work and his family's legacy.
The property needed cleaning and repairing, and he engaged the help of his older children. Together, they hauled away 52 truckloads of junk to a landfill. From the start, the greenhouse was a family endeavor.
"A lot of the family could get involved with it," he said. "Even an 8- or 10-year-old boy or girl can do something productive in a greenhouse. It's strictly a family business with all members of the family helping out."
He got into the business initially because he saw people wanting to improve their yards and homes, and "they needed someone to help." Years later, he told his son David that the business also afforded his children "the pursuit of higher learning through college, and subsequently allowed each to pursue his/her journey in life."
Operating a greenhouse isn't for the faint of heart. "But," my uncle said, "it's one of the most satisfying jobs anyone could have … watching your work literally grow and become healthy right before your eyes." And grow it did! Over the years, he and his sons renovated older buildings and added new ones. New lighting was installed and generators were frequently updated. What had once been a local retail business turned into a large wholesale operation serving several states.
As Uncle Bob said, "It's like farming. You have to make hay when the sun shines." During the busy spring season, the family worked from sunrise to sunset—13 to 14 hours a day. Success depended on the rain and the sun. Ice storms could knock out power, insects could ruin plants, and molds could kill flowers and trees. At times, things were hectic.
But "Centerville Greenhouses" survived, and over the past 49 years, three generations of the Bob Lind family have worked hard together. Some might call it a labor of love.
When Bob retired, his son Rob and his family took over. And these days, Rob's sons Pete and Alex run the business with help from other family members. The family believes that "there is no better worker than a 'home grown' one."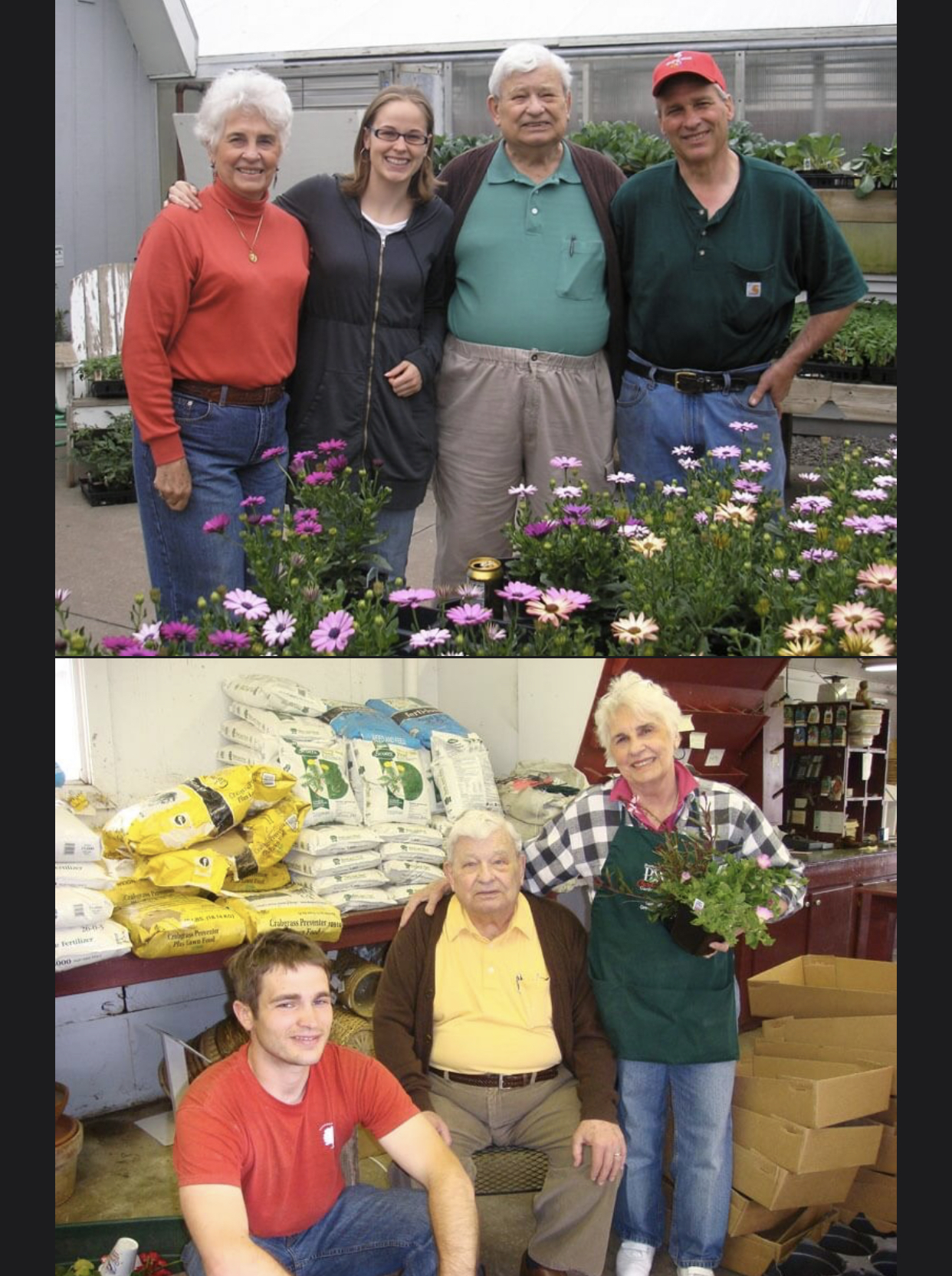 Grandson Pete says the greenhouse industry is "competitive, but everyone is friendly. There is a tradition of honesty and pride in the business. Everyone works toward helping the industry survive. They take pride in what they sell." He and his brother Alex have hired several other workers now that the business has expanded with new buildings, renovated spaces, and more inventory.
"The biggest challenge these days," he says, "is keeping up with marketing concepts and the demands of the consumer." But they enjoy their jobs and are proud to maintain the work ethic and the family traditions passed along to them.
Their Uncle David said his father's legacy was, "Always strive to do your best, but initiate a deep faith to provide the necessary guidance."
I have no doubt they would echo their cousin Amanda's final message to her beloved grandfather: "Love is the seed from which your tree has grown. It is the water and the sun. It is the care and the tenderness. It is all that is necessary. And I am so grateful, so moved, so happy to be one of its many leaves, forever connected to it, regardless of which way the wind blows."
Karen Brazas is a retired high school English teacher and creative writing instructor who taught in California, China, and Lithuania. She worked and studied in 35 countries with the Semester at Sea program. Karen is a wife, mother, and grandmother, and now lives in Nevada City, California, and Channel Islands, California.