When historical American homes are in need of preservation and an exquisitely traditional makeover, their homeowners have turned to interior designer Cathy Kincaid for over 40 years. She's played fairy godmother to dozens of charming houses that are full of character, including a 1750s Connecticut ferryman's cottage on the water, Manhattan penthouses, and a forested East Texas estate. "I think it's so important to live in something that has history," Kincaid said. "I think it inspires us … to be interested in the history of the United States, where we live, our cities. And these older homes, they do have a story to tell."
Many of the storied residences Kincaid has worked on have been featured in the world's top home magazines and are compiled in her 2019 book, "The Well Adorned Home," published by Rizzoli. Originally from Fort Worth, Texas, Kincaid attended Texas Christian University before moving to Dallas in the 1970s. There, she worked with local legendary designers before hanging up her own sign in 1978.
In her sweet but serious Texas drawl, she described two superb renovations that are close to her heart.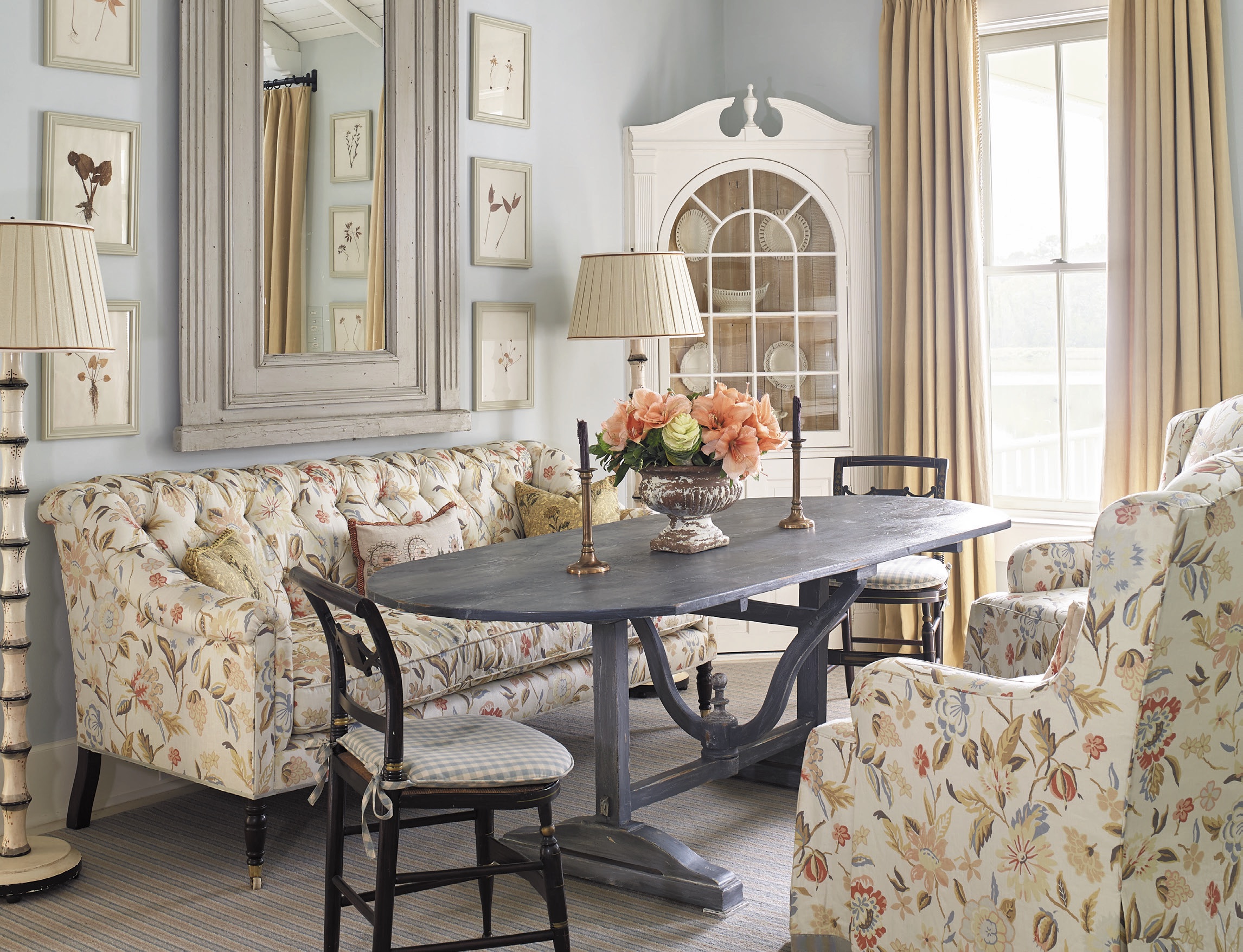 Texas Charm
The property Kincaid endearingly calls the "East Texas Farmhouse" is a recreation property on one of the largest remaining private lots close to Dallas, with hundreds of acres of forest, a lake, and a guest house. It was built in the mid-20th century by the famous wrestlers, the Von Erich brothers.
Although they made their living wrestling, the Von Erichs made sophisticated choices for their large farmhouse and were delightfully creative as they went about designing the space. Many of the door and window surrounds are made of half-sawn boards, their shapes, whimsically irregular, retaining the outlines of the local trees they came from. It's a feature Kincaid said she'd never seen anywhere before.
The current homeowners fell in love with the raw lumber ceilings and exposed beams, the staircase with a balustrade of antler-like branches, and other masculine features. Kincaid preserved everything the Von Erichs did right and remodeled the furnishings, wall coverings, fixtures, and the like, taking the interiors from "kitschy" to perfectly elegant and ready to entertain. "We wanted to create interiors that were comfortable and relaxed, that also exuded youthful style," Kincaid said. It's a house in the countryside, after all, so she didn't want anything to feel "too precious or fancy. But at the same time, we wanted the interiors to reflect the refined style and taste of the homeowners."
Kincaid's signature touch is obvious in the stately yet comfortable custom furniture, with rich, often patterned fabrics that are layered unpredictably, beautifully, and delightfully in each well-considered room. She's brought in timeless decor that looks effortlessly curated, while evoking a nostalgic atmosphere. The hearth is made to look inviting with a mini collection of model tall ships, a Federalist style mirror, a cabinet painted in the antique Dutch style, and many more careful details that don't draw attention to themselves but lend a deeply American sense of hospitality.
Home, Sweet Home
The lovingly restored house in Highland Park, Texas, that Kincaid currently lives in is a one-story, shingled cottage built in the post-World War I era, "one of the few houses of this style that's left in this part of Dallas," she said. She bought it in 2012 and, after restoring and renovating it, moved in two years later. Kincaid described it as a "very American" home. "It's kind of a surprise. … And when you're here, you don't really feel like you're in the middle of Dallas." Its architectural features are more in common with a cottage in rural Connecticut than a Texas abode. In addition, it's set away from the main road, surrounded by foliage that shields it from other properties. Classic topiary and potted orange trees greet guests outside the front door. Its shingled exterior with white trim and architectural details and its gaslight-like exterior light fixtures give off distinctly New England vibes.
She and fellow amateur historians of her neighborhood say it probably started out as a tiny, three-room caretakers' cottage attached to the estate of one of Dallas's most influential families. "[It has] gone through different incarnations to where now it's a family home, and it's quite desirable. I guess you could call it kind of a success story," Kincaid said.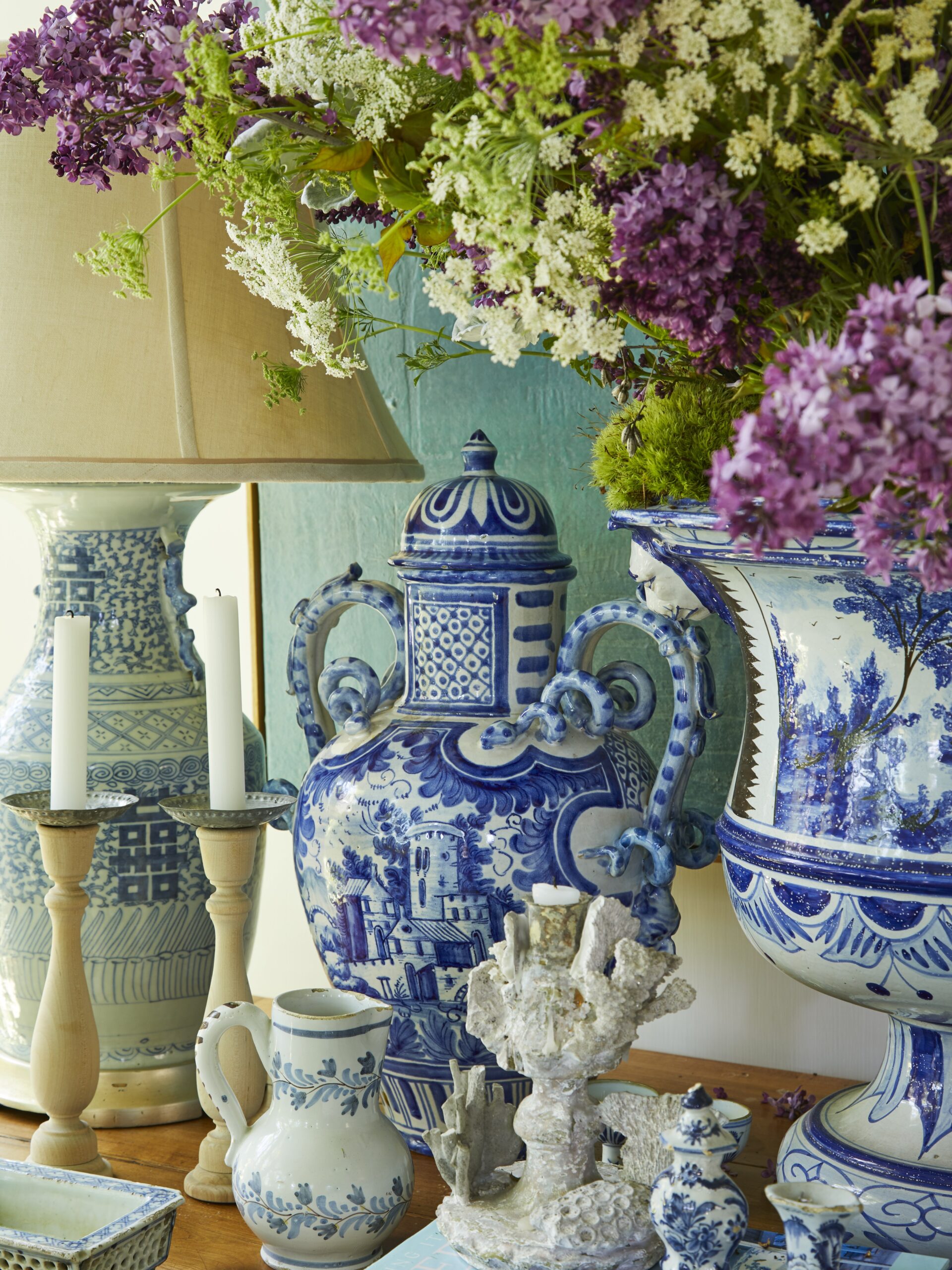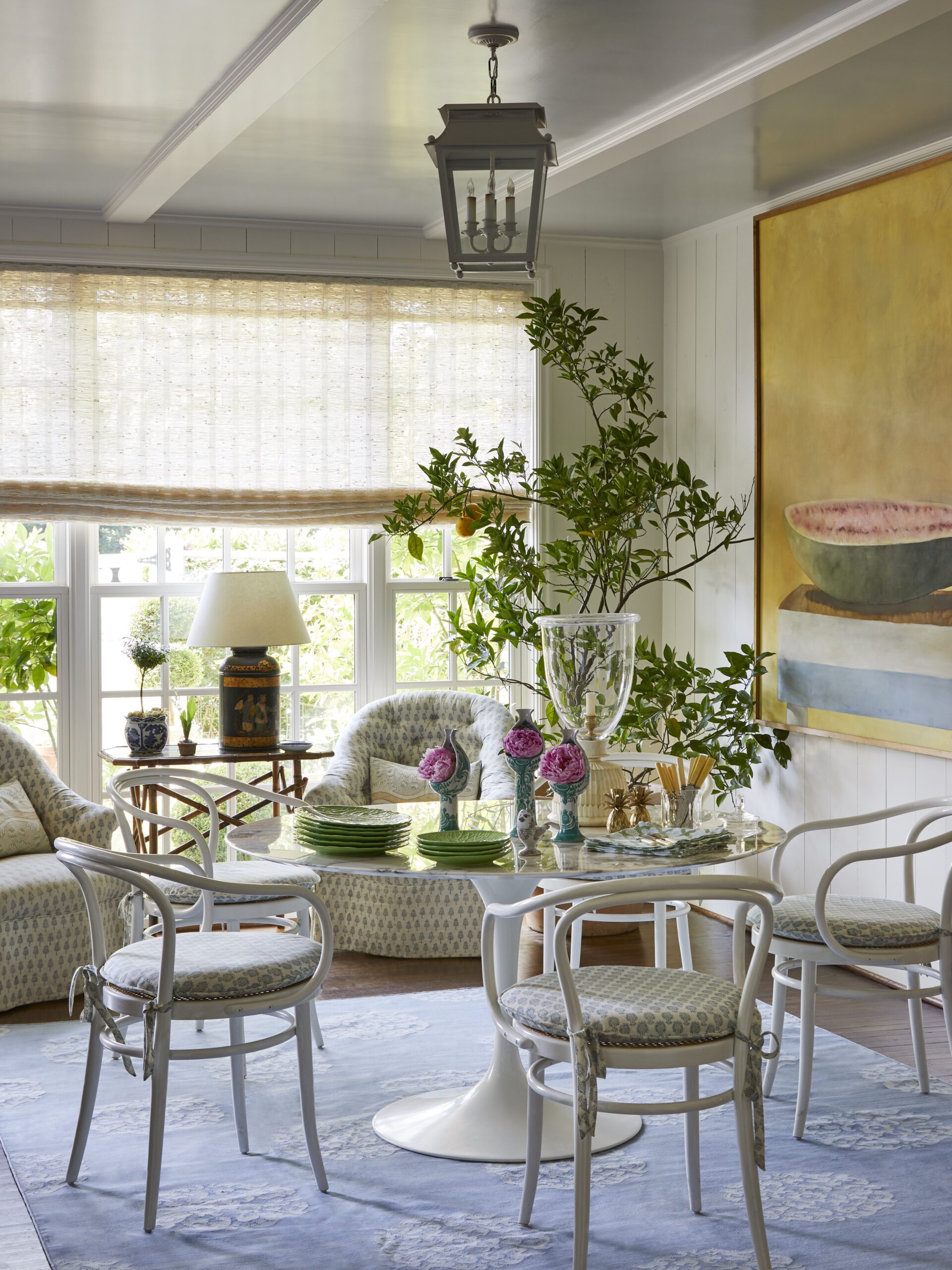 Over the years, there were modern renovations: Plaster went onto the walls; less-than-beautiful features were added in the kitchen. Kincaid was passionate about preserving the historical features. Her restoration took it back a little "to where it would have been," she said. "It's more in keeping with the year it's built and more in keeping with the style of the [original] house." She also gave it some updates to better suit her tastes, and to match her beautiful personal collection of porcelain and paintings. "The ceilings in the living room are not tall. So to cheat the eye and maximize the floor-to-ceiling windows, we used short valances [decorative drapery] and simple, linen curtains. We also added transom windows [small window features that are placed above doorways] between the entry, living room, and dining room to add light."
Her collection includes a stunning, hand-painted wall covering whose fairy-tale vistas wrap around the dining room. While not antique, it represents a series of important chapters in Kincaid's life. Years prior, Kincaid bought a home that once belonged to renowned interior designer Nena Claiborne (before she bought the house, Kincaid once worked at a custom lamp shop and would deliver the goods to Claiborne's residence). Claiborne had hand-painted this wall covering depicting tall ships and maritime scenes in a style popularized in Normandy, France, during the 1700s. It combines rich jewel tones with strong earthy colors and superbly plays the role these wall coverings were designed for: to wow visitors and be an impressive conversation piece.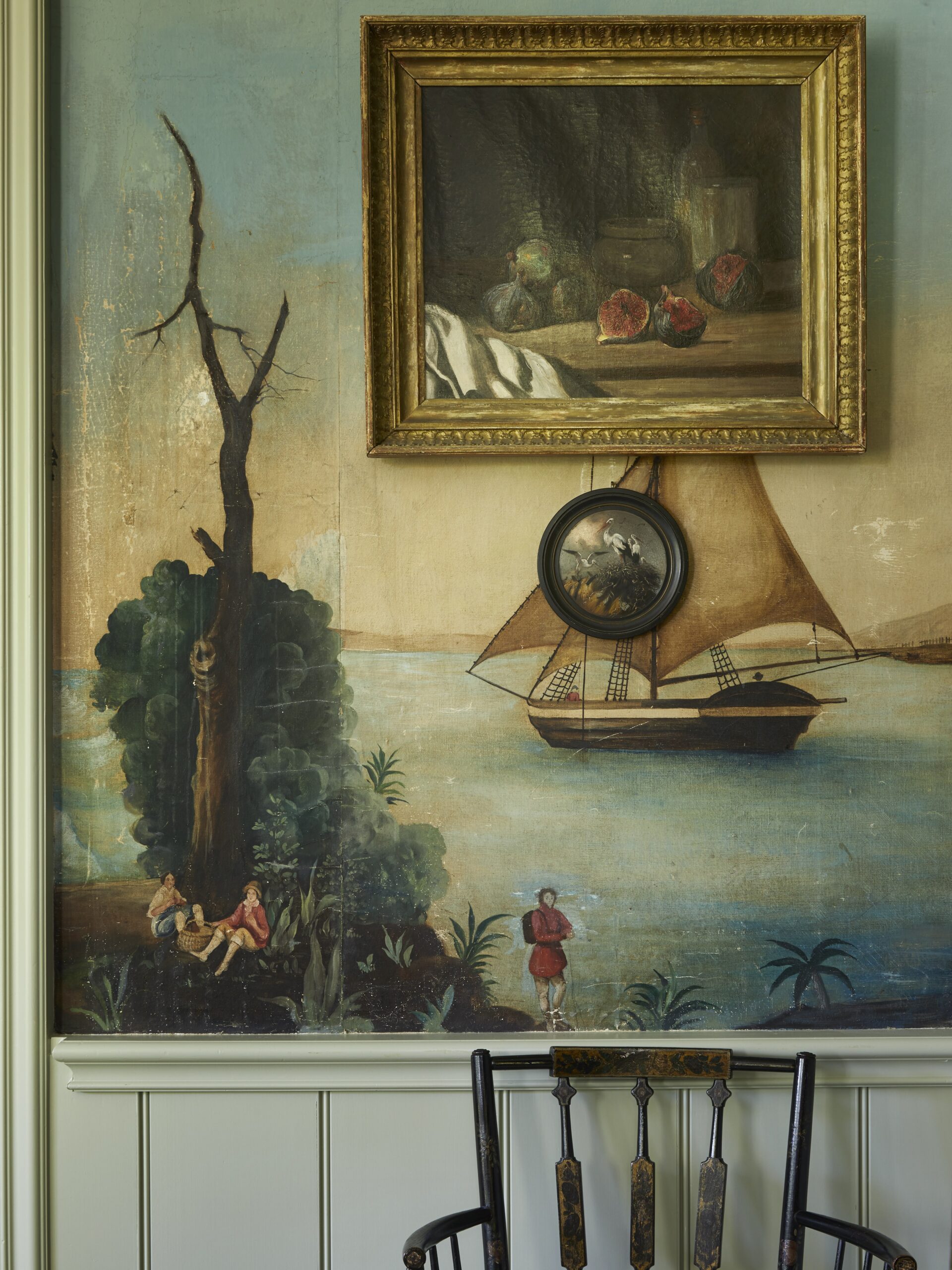 The wall covering tells a delicious story, but not in the way one may think. One of the men in the scene originally had no head. According to Kincaid, the story goes that he was Claiborne's ex-husband who cheated on her. She made him headless as penance. About 15 years after Kincaid moved into the house, a fire tore through the upstairs rooms and damaged the dining room where this canvas hung. But Kincaid salvaged the canvas and employed a team of craftsmen and artists to revive the artwork and rehang it in her new Texas home. During the process, it needed some retouching. One of the artists painted the man's head back on, not knowing it hadn't been there to begin with. "I walked in and went, oh my gosh, he's been redeemed!" Kincaid said.
It's a story that began generations ago, and it hasn't reached its end. The day before her American Essence interview, Kincaid was blessed with a new grandchild. Only the heavens would know what new stories will be told in this home that's celebrating its centennial anniversary (approximately) this year.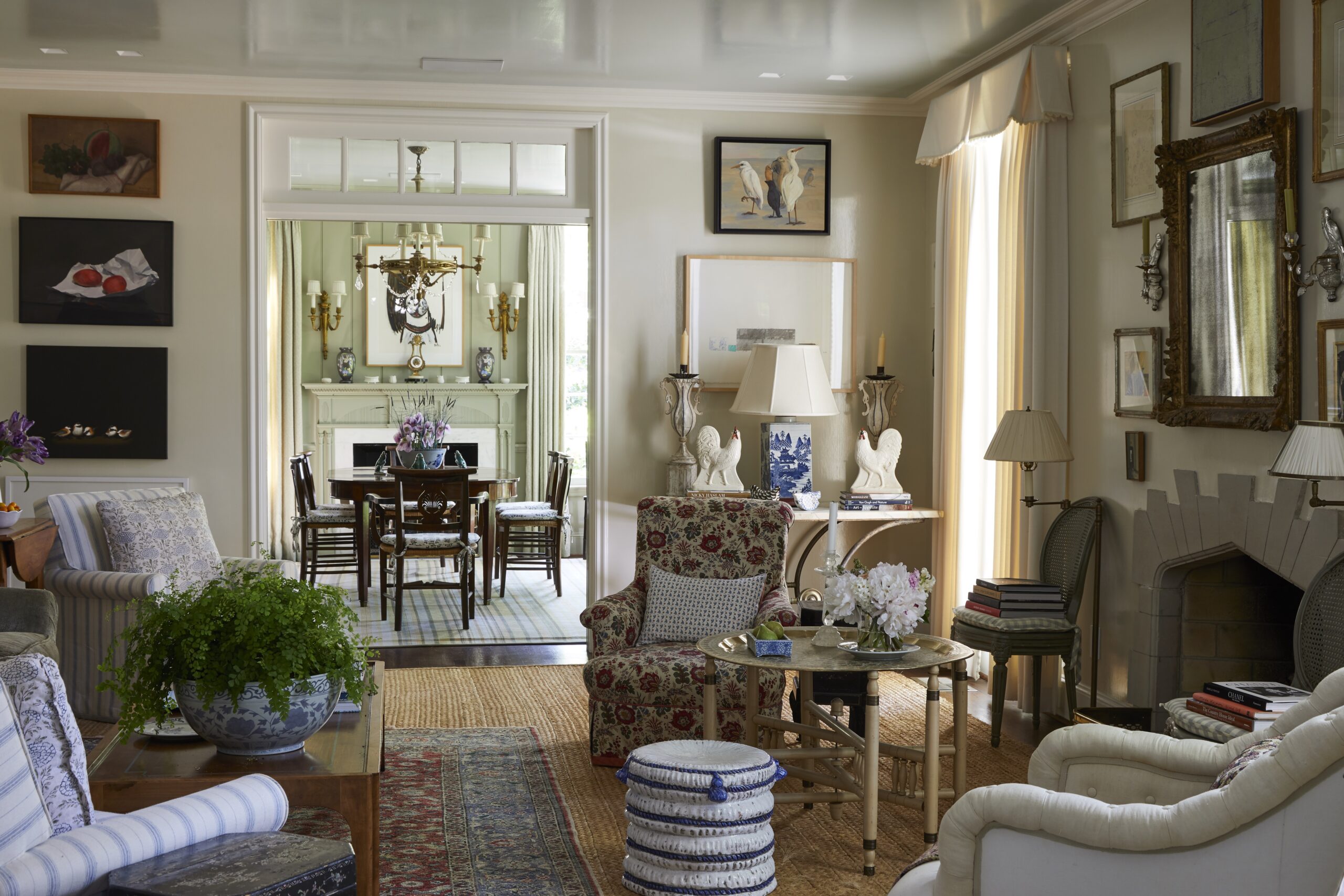 Kincaid continues to be drawn to gorgeous restorations with stories behind them. She said working on old homes is "a completely different feel. I love working on new properties, too, but it's fun to go into an old [home], especially one that hasn't been changed, and see how you bring it up to speed but at the same time retain all of the charm that it has from the years past. Nothing can quite replace something that was done a long time ago."
There's a unique character to them, she said. "I love walking into a house and wondering, 'What's happened there? Who's been [there]? Who's lived there?'"
From January Issue, Volume 3