Since the dawn of the American automotive industry over 100 years ago, car enthusiasts have been debating which car is the most collectible of them all.
While some, such as the 1957 Chevrolet Bel Air, and the 1964 and a half Ford Mustang, are at the top of many collectors' lists, most will agree the Tucker 48 is indeed the be-all-end-all car to have in a collection. Even if you don't have a collection, one Tucker trumps a dozen Oldsmobiles.
Who and What Is a Tucker?
From a young age, Preston Tucker was in and out of the automotive industry. Even though he never had formal training or a college degree, he had a thorough understanding of how mechanical things worked, particularly automobiles.
It was Tucker's childhood dream to design and mass-produce cars for the American market using elements that were either his inventions or rarely used before. After the war, he was able to raise $20 million (over $259 million in today's money) to do exactly that through the Tucker Corporation.
Tucker and his crew made 51 cars by hand. There were subtle differences among them and the designers were constantly making small improvements as they went along. Parts were not 100 percent interchangeable from one vehicle to another.
"You can't take a door off one and put it on the other," said Mark Lieberman, a Tucker owner and historian. "There were changes in the engine that were made. There were changes in the suspension that were made."
Each car is known by its number. There's the prototype, known as No. 1000, also referred to as the Tin Goose. Then there are 50 Tucker 48s, numbered 1001–1050. However, prior to the Tin Goose was the Tucker Torpedo. "It was never a car; it was only a plaster model," said Lieberman. To make things even more complicated, Nos. 1026 and 1042 are known as Tuckermatics because of their unique transmissions.
Innovations
Safety was a priority for Tucker. In all of the cars, he installed a windshield that would pop out should the driver or passenger be thrown through it, thus avoiding lacerations.
You know when you're looking at a Tucker because it has three headlights. Tucker installed one in the middle of the front end that was connected to the steering wheel.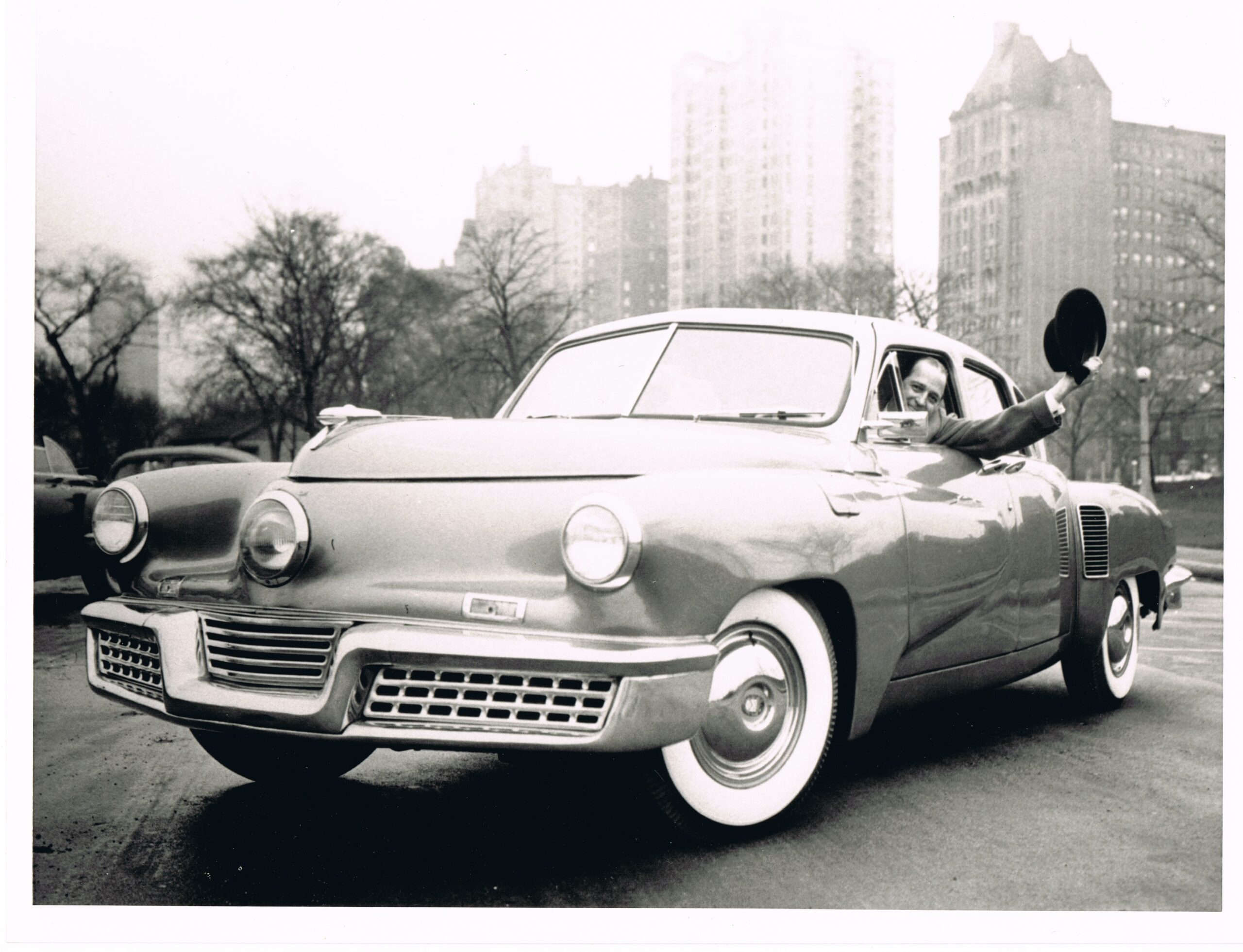 Then there was the sponge rubber crash panel, which was essentially the first padded dashboard. Tucker also had this material on the doors, making the Tucker 48 the first car with a padded impact area. The automotive industry has since embraced this feature. "It's been a staple ever since," said Lieberman.
Tucker wanted his car to have seat belts, which no other manufacturer had at the time. However, the marketing department felt seat belts would send the message that the car wasn't safe, and Tucker was overruled on that one.
The Tucker 48 had four-wheel, independent suspension. "Unheard of at the time," said Lieberman. "Now it's commonplace on many automobiles."
The Big Three and the SEC
At this time in America, just about every car owner owned one made by one of the "Big Three" car manufacturers, Ford Motor Company, Chrysler Corporation, or General Motors.
The automotive establishment in Detroit was not happy with Tucker's unorthodox methods of manufacturing and marketing and perceived him as a threat. History has painted The Big Three as being the villains in this saga, but that isn't necessarily true.
A smear campaign was done with false charges of fraud, brought on by the Security and Exchange Commission. Tucker and his executives were tried and acquitted, but the SEC succeeded in putting the Tucker Corporation out of business.
Where They Went
After the demise of the Tucker Corporation, the 51 cars were scattered about the country. In the 1950s, a showman named Nick Jenin bought up 10 of them and toured the country, bringing them to state fairs on two car carriers, where he promoted the story of Preston Tucker.
"Ezra Schlipf is another gentleman that bought quite a few of them and resold them," said Lieberman. "There were guys that became known as Tucker specialists." Collector David Cammack purchased three, none of which he'd even start, let alone drive, for fear of damaging them. Cammack also collected Tucker artifacts, such as original documents and blueprints, making his collection the most extensive of them all.
The second of the two Tuckermatics, No. 1042, had sat idle at the Michigan State Fair Grounds, even though it was owned by Jenin. The powers-that-be decided a good way to get this car off their property was to have an event where, for the price of a dollar, anyone could smash it with a sledgehammer.
In 1988, Paramount Pictures released the feature film "Tucker: The Man and His Dream," starring Jeff Bridges as Tucker. It was produced in part by George Lucas's Lucasfilm Ltd. and directed by Francis Ford Coppola. The biopic didn't do well at the box office, but it introduced Preston Tucker to the general public. "The values of Tuckers wouldn't be what they are today without the movie," said Lieberman. Lucas owns a Tucker 48 and Coppola owns two.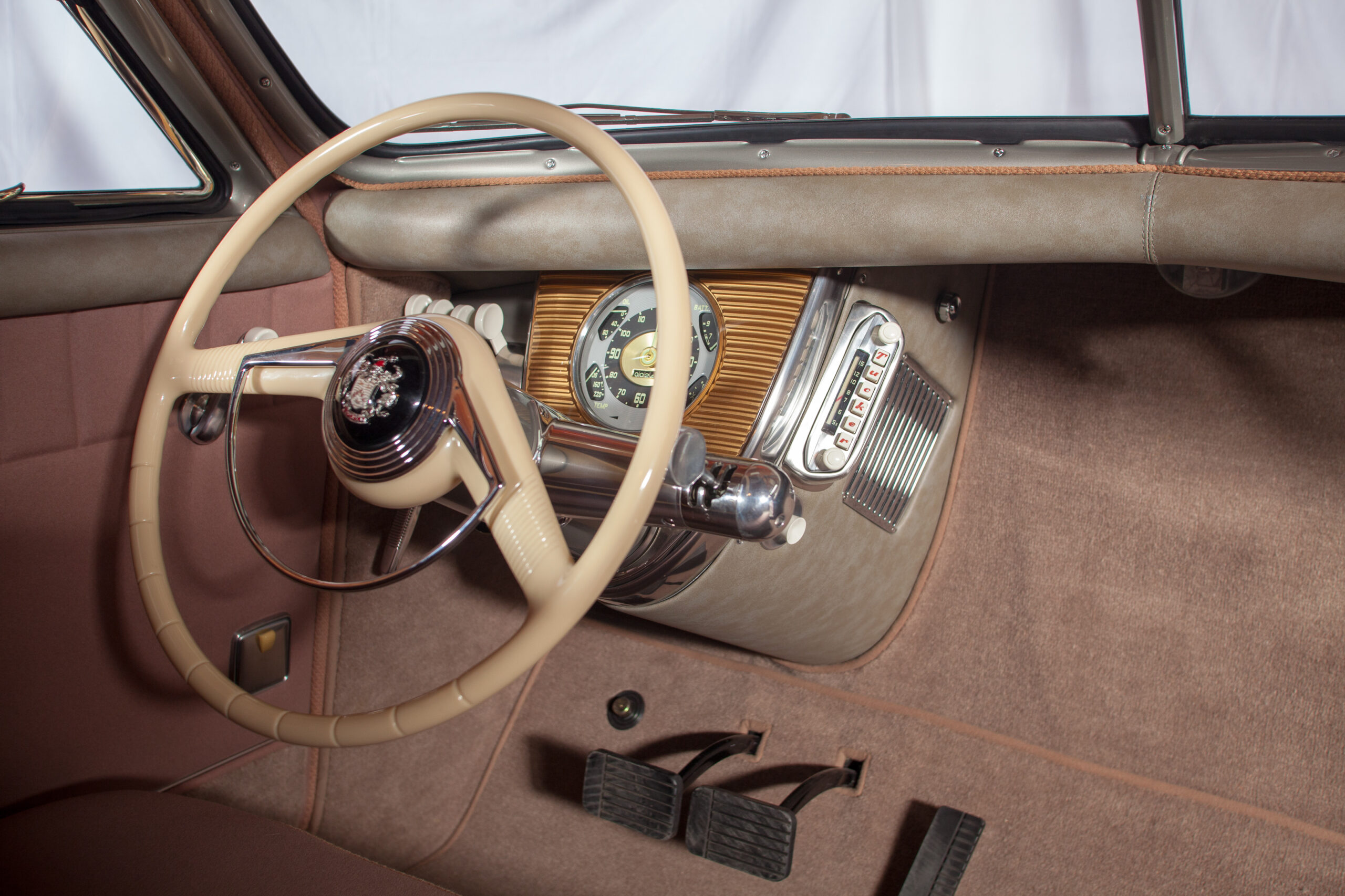 The Resurrection of No. 1006
Lieberman has been a car enthusiast his whole life. In 1992, when he was 29 years old, a friend told him of a Tucker for sale. The story the friend verbalized was that in a parking structure in downtown Detroit, where he stores his car for the winter, there was a Tucker that might be for sale. Lieberman found this claim hard to believe. He went to the building, which was "packed full of dilapidated vehicles and cars in storage." He met with the owner of the place, a retired police officer, who walked him over to a "dark, dingy corner."
"Lo and behold, there's three headlights looking at me from this corner," said Lieberman. The exterior of the car was covered in dirt, and the interior was being used, literally, as a garbage can. This included Wendy's bags and wrappers, a kitchen food processor, and a bathroom scale. Plus, the side windows were broken. "I didn't care. I wanted it all," said Lieberman.
After a few minutes of negotiating, Lieberman wrote a check and called for a flatbed to come get his newly found treasure. The trip home was in the pouring rain, which gave the car its first wash in decades, "leaving this trail of black behind it." Lieberman didn't realize until he arrived at his house that there was a convoy of drivers following them, who wanted to buy the Tucker from him on the spot. Lieberman has since restored the car to its original splendor (pictured) and at one time or another has owned five Tuckers.
A collector on Long Island currently owns No. 1044, which once belonged to Lieberman. "I pulled that car out of a barn where it sat since the '70s," he said. The barn was in Ohio, and he bought it in 2016 or so. "I just got it running and driving and I sold it at auction," said Lieberman, where the current owner purchased it for about $1.3 million.
The Tucker Automobile Club of America
Lieberman has owned five Tucker 48s and he's the senior director of the Tucker Automobile Club of America in Hershey, Pennsylvania. The club is part of the AACA Museum, which Lieberman describes as "the center of the Tucker universe." On display there are Cammack's three cars, Nos. 1001, 1022, and 1026, as well as the artifacts he collected. No. 1026 is the only surviving of the two Tuckermatics.
While the Tucker Corporation is long gone, Preston Tucker LLC exists today, located in Lancaster, Pennsylvania. It was started in 2012 by Tucker's two great-grandsons, Sean and Mike Tucker. The great-grandsons work closely with Lieberman in restoring the autos. "The three of us know every bolt, every fastener, and every component of these cars," said Lieberman.
The great-grandsons, Bob Ida and his Ida Automotive, and Bruce Devlin were the craftsmen who restored No. 1044, from the barn in Ohio, with parts supplied by Lieberman. Currently, all of them are involved in the restoration of three more Tucker 48s.
Other Locations
The Museum of American Speed in Lincoln, Nebraska, currently has a Tucker on display, as does the Tallahassee Automotive Museum in Florida. The Smithsonian's National Museum of American History in D.C. has No. 1039 on display, which was acquired through a 1992 narcotics arrest by U.S. Marshals. The automotive museum at The Imperial Palace Hotel and Casino in Las Vegas also had a Tucker on display for many years. The establishment is now called The Linq, and the museum is long gone. The car, No. 1008, is now at a museum in Chicago. No. 1030 is currently at the Petersen Automotive Museum in Los Angeles.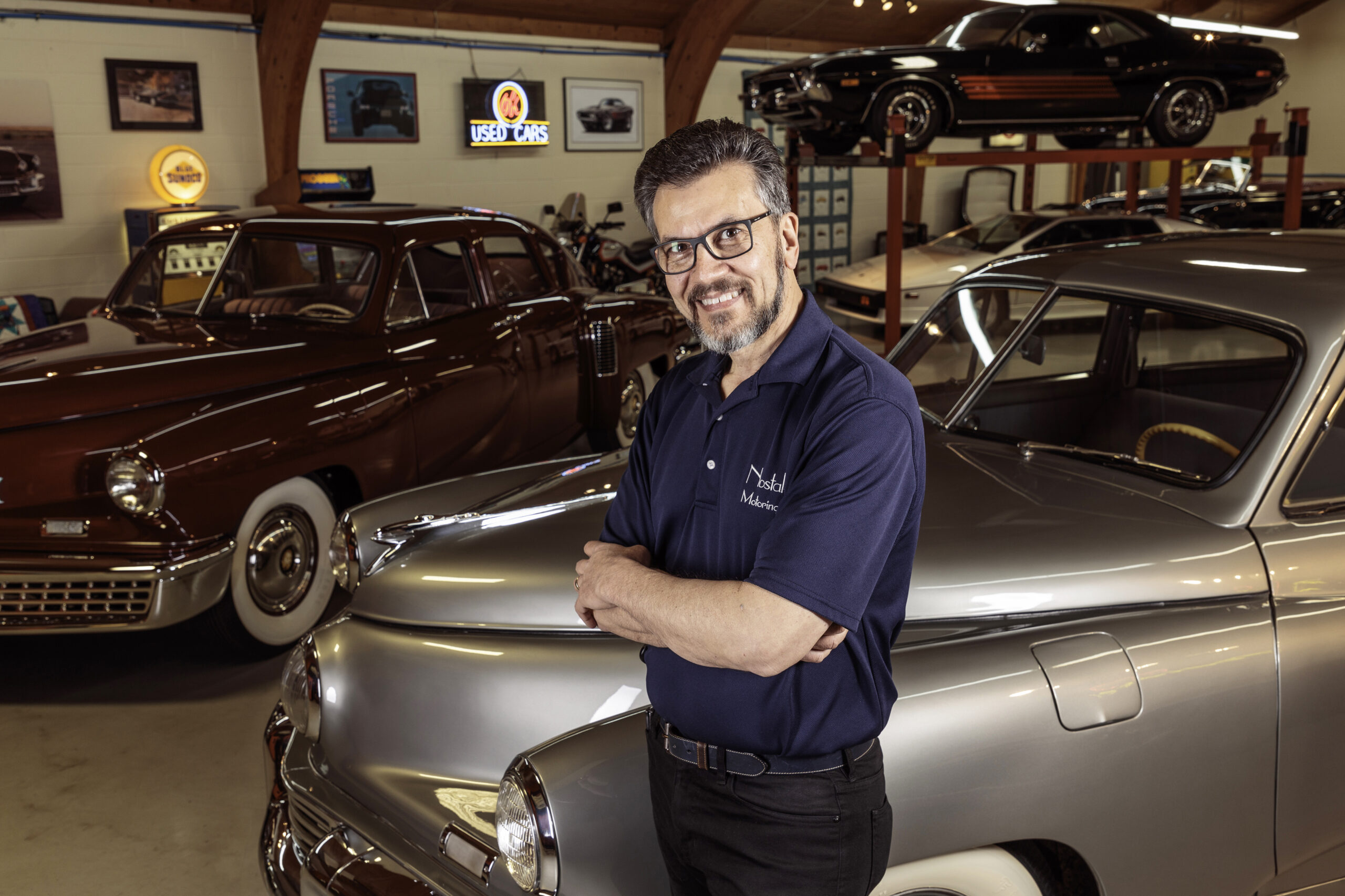 The LeMay Collections at Marymount in Washington state has No. 1007 on permanent display. It was purchased in 2002 at an auction for $334,800. Although its initial engine was replaced in 1948, the transmission is original. "The car came with a Cord preselector transmission from the factory and remains in the car," said volunteer Tim Hallen. Its most recent restoration was completed in 1993. The original color of the body and interior was green, but both have been redone in a non-Tucker blue.
There's a Tucker in Japan, one in Germany, one in Australia, and one in Kuwait. The City of Cacapava, Sao Paolo, Brazil, owns No. 1035, and the Maine Classic Car Museum has No. 1028 on display.
The Henry Ford Museum of American Innovation has one on display, which is ironic because the Ford Motor Company was one of the Big Three that was supposedly responsible for putting the Tucker Corporation out of business. The disclaimer on its website reads:
"Tucker built 51 cars before a shortage of money and a surplus of bad publicity closed his company. Some think the Big Three conspired to destroy him. More likely, he was overwhelmed by the enormous cost of building an automobile company from scratch. Tucker raised over $20 million, but probably needed ten times that much to secure his firm's future."
Lieberman feels this statement is "all very true."
"All cars are accounted for," said Lieberman. "Of the original 51 cars, including the prototype, 47 survive." He estimates that of the 47, just over half actually start and move but aren't really roadworthy. He estimates about 10 or more can be driven long distances.
Tucker's Legacy
Preston Tucker died in 1956, at the age of 53. So he never saw the worth of each of his 51 creations surpass $1 million. He never saw his life played out by actors on the big screen. So it's up to collectors with the desire to keep the Tucker 48s intact, and craftsmen such as Lieberman, Ida, and the great-grandsons to help them do that, to keep Tucker's legacy alive.
Perhaps if Tucker could witness these things, he'd know that there are 47 machines that represent American ingenuity, American entrepreneurship, and the American Dream.
And those things will always survive, even if the 47 remaining cars don't.
This article was originally published in American Essence magazine.