Decades before Johnny Appleseed started planting apple trees in Pennsylvania and Ohio, two brothers created an apple orchard in Limington, Maine, that has endured for 238 years. It was 1783, and the Treaty of Paris had officially ended the American Revolution and ratified the independence of the thirteen American states.
Joshua Brackett and his elder brother Abraham had traveled the 30 miles from Portland, known then as Falmouth, Massachusetts. It was a journey of about a day by horseback. But on their way to the newly settled area of Little Ossipee Plantation, their horses were spooked by an unexpected encounter with a bear. They shot the bear with their Brown Bess musket and considered the fact that the horse had warned them about the animal a sign of good fortune.
Both brothers had followed the example of their father, Lieutenant Joshua Brackett, Sr., and had joined the Continental Army: Abraham in 1778 and Joshua, Jr. in 1780. War in the New World was not new to the Bracketts. Their second great-grandfather, Anthony Bracket, had immigrated from England to New Hampshire around 1623 and was killed by Indians in 1691 at the age of 78. Conflicts with local Indian tribes and the French and Indian War in 1754 brought numerous tragedies to their family.
But when Independence from Britain was declared, the Bracketts joined the American cause, as did many of the citizens of the District of Maine. Joshua, Sr., was a captain of a company of minutemen who marched to Cambridge in 1775. He then became a Second Lieutenant in Captain Joshua Wentworth's company, while both of his sons served in Captain Joseph Pride's company, with Abraham discharged in 1779 and Joshua, Jr. discharged in December of 1780.
Joshua, Jr., had the colorful distinction of serving in a detachment of men deployed on boats that warned fishermen about the incursions of the British Naval Captain Henry Mowat, who had burned Falmouth in 1775.
The brothers had received a grant of land as recompense for their military service. Discharged, with the war winding down in 1781, they journeyed to their new holdings at Little Ossipee Plantation, later incorporated as Limington. They found that the hilly country was ideal for apple trees, so the brothers formally established a farm and orchard in 1783.
Joshua didn't know that 238 years later, a ninth-generation Brackett, his sixth-great-grandson Manley Brackett, would still be running the orchard at the age of 99.
The brothers could not have imagined the future threat to their family farm posed by modern technology or an apple called "Honeycrisp."
The 99 years of their descendent's life were, except for a few brief interludes, resonant with the fragrance of apples. Manley Russell Brackett was born on the farm in 1922 and was wheeled in a baby carriage by his mother as his parents planted rows of McIntosh apples.
His parents were Guy Bracket, born in 1884, and May Russell, born in 1881. "An apple a day keeps the doctor away" must have worked quite well for the Bracketts—Guy and May were 78 and 89 when they passed away in 1963 and 1971.
Guy and May had decided to stop raising cattle and had converted the farm to only grow apple trees, even though at that time it was still a small farm of about 10 acres. Manley joined the Merchant Marine in World War II and served for two years on a Liberty Ship as the ship's purser and quasi-pharmacist. After the war, he came back to the farm and helped his father slowly expand the orchard until, in the '70s, the apple trees covered 120 acres.
The Manley Expansion
Manley married Marion Virginia Sawyer right after the war when Manley was 25. "Ginnie" was a graduate of the Concord School of Business and served as Manley's business partner, balancing the books "down to the last penny." They had two daughters, Diane and Debra. Diane told me that Manley had once remarked that "asking Ginnie Sawyer to marry me was the best decision I ever made."
Manley and Ginnie grew the business until it was a substantial success, shipping 30 to 40,000 bushels of apples a year, many of them out of state and as far away as Europe. In 1964, Manley was featured in The Portland Press Herald as one of the "Faces of Maine." The farm is a member of the Maine Pomological Society, an organization founded in 1873 that includes apple orchards all over the state and deals with the science of fruits and fruit growing.
Manley developed the orchard even more when he installed a cold storage facility and took on the task of packing the apples in-house. Both decisions increased profits by cutting out two levels of middlemen.
When Manley was 57 in 1979, he was chosen as the York County Farmer of the Year by the Soil and Water Conservation District. The former Journal Tribune newspaper from Biddeford, Maine wrote on November 8, 1979:
"It is because of Manley's efforts to conserve soil, his progressive and sometimes aggressive efforts in growing apples, in putting up wind fences, pruning trees, and turning apple-raising into an art that won him the award."
"Operating an orchard is a year-round business, and the way Manley Brackett operates it is not so much a fight against the elements of time and weather, but rather a combination of agricultural technology with an understanding and appreciation of nature. It is learning to work with the weather, soils, trees, and the experience of apple-raising, handed down from generation to generation."
Planes, Packing Houses, and Big Farms
In 1972, Manley's daughter Debra married a young man named Guy Paulin. A year later, Guy started working for Manley in the orchard and has worked there ever since. Debra became a school teacher, and Guy and Debra had two boys who were "mirror twins"—identical twins except that one was left-handed and the other right-handed. Both boys graduated from Bentley College.
For the last 12 years, Guy has been the manager of the orchard and has witnessed seismic changes in the apple-growing business. After years of growth, Brackett's has been confronted with the stresses of foreign competition and the implementation of modern but extremely expensive packing machines. Many other orchards have gone out of business, but Brackett's has survived due to the commitment to the orchard by Guy and his wife, Debra, who is the farm's bookkeeper and full-fledged partner.
Apple brokers are the key to success for a large-scale orchard since it's an apple broker that arranges contracts with a variety of grocery stores across the country. Manley used a broker to get his apples in stores in Florida, where they were purchased by snowbirds from New England. But he eventually stopped using brokers because their increase in packing requirements was not cost effective.
Prior to the delivery of food items by aircraft, customers didn't expect fresh apples to be available at every grocery store, 12 months a year. Now, with apples flown in from countries like Chile, one can buy a crispy, delicious apple at any time. Although that's been great for consumers, smaller orchards have struggled to compete.
Brokers now go with the large orchards that can meet a continuous demand, whether foreign or American, and their requirements for packing and delivery have increased. Instead of apples being shipped loose in a box, many brokers want them packed in individual compartments as they are done with eggs. Additionally, supermarkets want a sticker on each apple, which is too labor-intensive for smaller orchards.
The year-round demand has made it tough for farms like Brackett's, especially with apples like the Honeycrisp, which have stringent requirements for storage and a high percentage rate of failure.
The Rise of the Honeycrisp
Guy told me that Honeycrisp apples are extremely profitable and popular but require expensive equipment to ship year-round. To preserve them, farms need packing facilities that include controlled-atmosphere storage, which regulates the levels of oxygen, carbon dioxide, and nitrogen, as well as temperature and humidity. Many big packing houses have specialized x-ray machines that scan the inside of the apples for defects. But those machines are far above the budget of many growers.
Developed at the University of Minnesota and released in 1991, the Honeycrisp apple is a hybrid of the Keepsake variety and an unreleased apple labeled the MN1627, a grandchild of the Duchess of Oldenburg and the Golden Delicious apples.
Its crispness and sweet taste have made it a must-have apple at grocery stores, and it sells at a high price. Customers want Honeycrisp apples, so stores and growers have to respond.
Yet for growers, the Honeycrisp is not all joy. In the article "The Dark Side Of Honeycrisp," by Christina Herrick, published on the Growing Produce website on January 27, 2015, Herrick writes:
"Ask any grower whether they enjoy the experience of growing Honeycrisp year in and year out and they'll likely tell you no. But it's a necessary evil. Without Honeycrisp—one of the most profitable varieties to have in an orchard—many growers believe they can't stay competitive. …"
"It is by far and away the most difficult variety I've ever grown," says Bruce Allen, president of Columbia Reach Pack in Yakima, WA.1
In spite of the problematic side of the new Honeycrisp apple, Guy has planted over 3,000 Honeycrisp trees at Brackett's. Because of changes within the industry and the consolidation of many smaller farms into larger ones, Guy also had to cut costs to stay competitive.
Downsizing and Fine Tuning
After years of expansion of their farmland, Guy has trimmed the land down to 55 acres. The orchard grows McIntosh, Cortland, Honeycrisp, Spencer, Macoun, Yellow Delicious, Red Delicious, and Northern Spy apples. He's also added blueberry bushes and peach trees. The Brackett farm stand sells its own apple cider as well as a variety of other local products.
The farm has no broker, due to its size, so Brackett's has been shut out of the supermarket routes of sale. To compensate, Guy supplies apples to 10 school districts within a 50-mile radius. The farm also has a very popular pick-your-own apple program at their high-ground orchard, which has a 180-degree view of the mountains of New Hampshire.
Brackett's has also struggled with labor, as many companies have. Guy is fortunate that he's been working with some excellent apple pickers from Jamaica that come every year for 10 weeks, from September to November. One of them has been working for Brackett's for 10 years. But local help is much harder to find.
I asked Guy about his work schedule, and I was surprised, even though I shouldn't have been. I've known for a long time that farmers are a special breed of human, far too often unappreciated by their customers who enjoy—in this case literally—the fruits of their labor.
Guy's day goes from around 4:30 in the morning to 7:30 at night—a 15-hour day—seven days a week. One hundred hours of work a week is something that mere mortals don't normally wish to contemplate. But that's what farmers do, and that's what Guy has been doing for the more than 40 years that he's worked at Brackett's. He has been fortunate that, as he stated, Manley was "an easy boss." And, of course, Guy is now part of the Brackett family, and he loves his work.
Guy and Debra are both taking care of Manley as he approaches his 100th birthday. They've helped Manley fulfill his pledge to his father "to keep the orchard going." Manley often told customers as they left the orchard with bags of apples: "We'll see you down the road."
Debra's sister, Diane, has performed the invaluable service of keeping track of the history of the orchard and the Brackett family.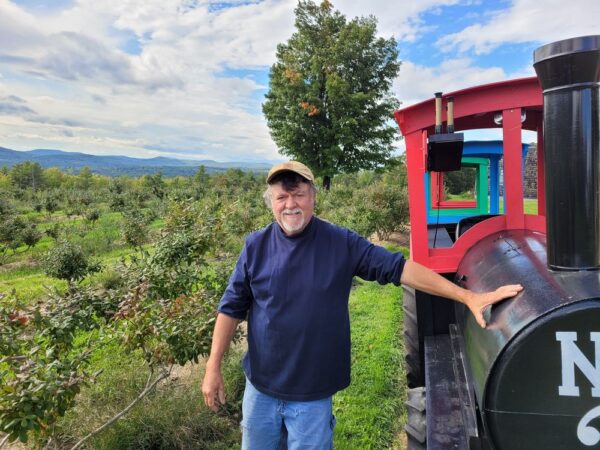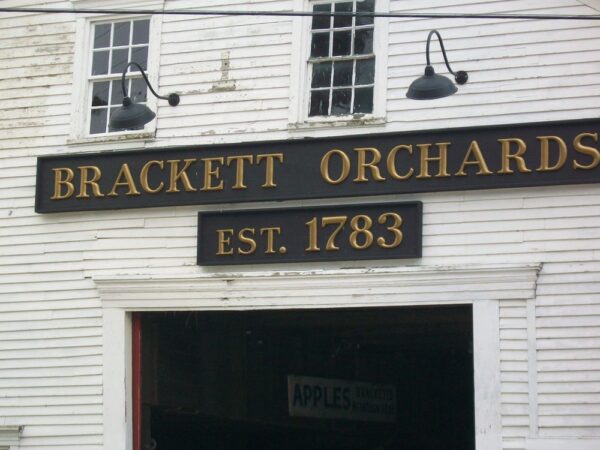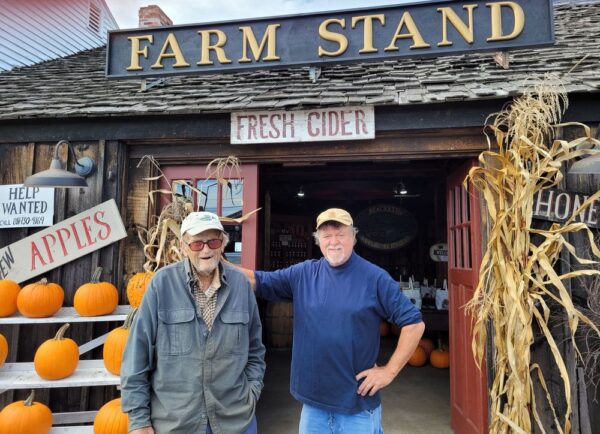 The Future of Brackett's
We concluded our conversation by looking at the future. It would be easy to sell their orchard, but they don't want to. They want to continue and make it work. Guy is 68, and he's hoping that one or both of his sons might manage the farm. The farm is still profitable, although it's always on the edge, as many small farms are. Crises are always waiting in the wings, in the form of bad weather or crops that fail.
When I looked at Guy, sitting in the small visitor's cabin on the top of their beautiful hill facing the western mountains in New Hampshire, I was reminded of Rocky Balboa. The Bracketts have been fighting to survive, to grow, and to bring value to their neighbors for 238 years.
The Brackett's Orchards farm most certainly qualifies, at least in my mind, as a Historical Landmark. It is indeed a historical treasure. In addition, when I drove through Brackett's apple trees and came back to their farm stand to shake Manley's 99-year-old hand and wave goodbye, I felt that this was one farm that must not be subsumed by the bean-counters of Big Agra. The orchard has too much soul and too much history. Brackett's Orchards must continue.