On a summer's day in 1955, the stars aligned for an airman second class at the Lowry Air Force Base in Denver, Colorado. This was just before the days when Camp David became the official presidential retreat, and President Dwight D. Eisenhower used a property near the base known as the "Summer White House."
Twenty-one-year-old Al Freni was assigned to the president as his official photographer. On August 16, he and several other photographers were shooting Eisenhower (known as Ike) and his grandson, David, as they were recreating on a nearby ranch, owned by one of Ike's friends, Aksel Neilsen.
Freni took the picture that would kick-start his career. It's of the pair fishing at a pier, bonding as grandfathers and grandsons do. This picture would be republished in books and magazines and exhibited for decades thereafter.
Freni's story begins in 1933, when he was the second son born to Italian immigrant parents in the Jackson Heights neighborhood of Queens, New York. His birth name was Alfredo Giuseppe Freni, but several years later, an editor felt it would take up too much space in his publication and, in an Ellis Island-style move, insisted he simply go by Al Freni.
At 10 years old, Freni purchased his first camera, a Clix Deluxe, for $1.79. Soon after, his older cousin purchased a basic darkroom kit for Freni, and he started developing and printing his own pictures in the bathroom and what was the coal bin in his family's house.
Completely by chance, famed Life magazine photographer Alfred Eisenstaedt lived in an apartment building two blocks from the Freni household. Upon learning this, Freni scraped up a dime to purchase the latest issue, never having heard of Eisenstaedt before.
Freni attended the School of Industrial Art (now the High School of Art and Design) in Manhattan for high school, where he took four photography classes per day and was named "most probable to succeed" upon graduation in 1951.
At this point, the Korean War was on, and Freni was of draftable age. For the next two years, he worked two different jobs but decided to enlist before he was to be drafted. He joined the Air Force in 1953 with the plan of working as a photographer.
The Air Force had a different plan. They trained him as a turret mechanic for B-47 bombers. After nine months of it, Freni had had enough and was seriously considering going AWOL. "I couldn't stand what I was doing," Freni said. A fellow airman suggested he speak with the base chaplain. Freni took that advice, and the chaplain, a colonel, pulled some strings. He offered Freni a position working for the weekly Air Force newspaper, called Airmen. Freni jumped at the offer.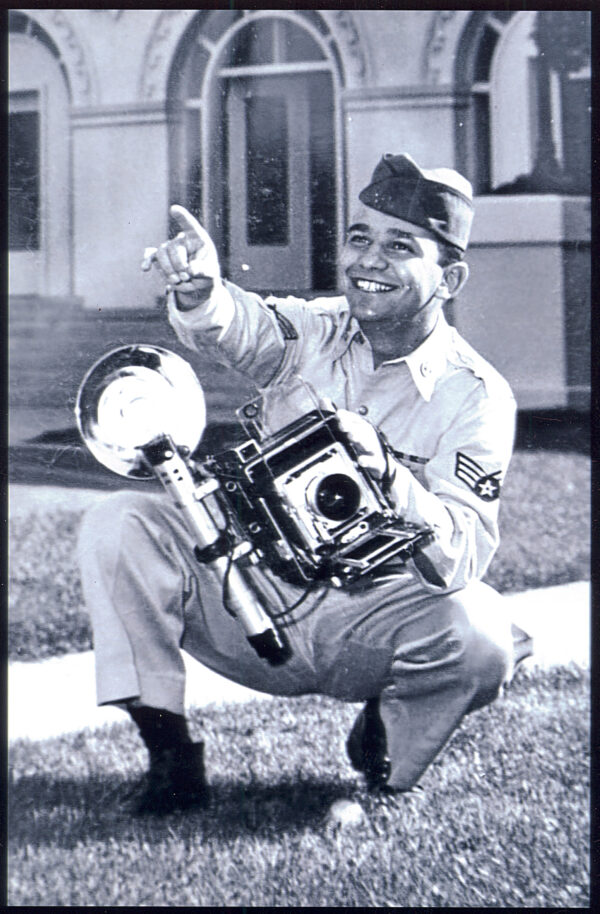 The good news was Freni was the No. 2 photographer of a two-man photo department. The bad news was that meant he had to shoot the less-glamorous and more difficult assignments, including climbing up a ladder to the roof of a hangar to photograph the president's plane upon arrival.
"Then the magical thing happened," said Freni. "The photographer that was assigned to cover the president in 1954 got his orders. They shipped him out. I graduated to base photographer."
That meant whenever Eisenhower vacationed at the Summer White House, Freni was the official photographer. "Here I am, not even 22 years old," said Freni, "and I was assigned to be the presidential photographer."
The day of golfing, horseback riding, and fishing was a photo-op manufactured by the presidential press secretary at the time, James Hagerty. It was so manufactured that, according to Freni, the White House had live trout trucked in and released into the water to ensure the younger Eisenhower would catch a fish.
While the entire day was manufactured, the moment Freni captured was real. David had walked away from his grandfather, and the other half-dozen photographers there, and stood on the pier alone. Ike walked over and joined him. Freni saw this unfolding but was the only photographer to act. "I saw a picture," Freni said. He then shot the photo that would bring him his most recognition.
All of Freni's photographs taken while in the Air Force were shot on a Speed Graphic camera, which he purchased in 1949. It was the camera photojournalists had used for decades. It was big, heavy, cumbersome, and took one sheet of film at a time, so photographers spent a lot of time inserting and removing the frames that held the film. If a flash was needed, individual flashbulbs were inserted before and ejected after each use.
The fishing photo ran on the front page of Airmen, as well as the Rocky Mountain News, a Denver daily newspaper. Eisenhower loved it so much that he requested 40 prints. It took Freni three days, but he made 43 11-by-14-inch prints in the darkroom by hand.
An appointment was set up for Freni and the public information officer, a major, to meet in the president's office, where Eisenhower would sign one of the prints for Freni to keep. Freni got a haircut, shined his shoes, and put on clean fatigues. When they walked into the room, Eisenhower said, "Come in, Sergeant," and the major's face turned white.
Freni believes this was the commander-in-chief's subtle way of saying to the major, "Promote this guy." Whether it was intentional or not, the major did, indeed, promote Freni soon afterward.
Ike wrote, "For Alfred Freni, with best wishes, Dwight Eisenhower."
Thirty-nine years later, the grandson, David, signed the photo, writing, "For Al Freni, who took my favorite picture."
Freni's photograph is at the Dwight D. Eisenhower Presidential Library, Museum, and Boyhood Home in Abilene, Kansas, and at the Eisenhower Historical Site in Gettysburg, Pennsylvania. It's been published in one of the titles in the Time-Life series, "The Fabulous Century," as well as many other books and magazines.
Freni has had a long career as a professional photographer in New York. For many years, he had a combination studio-office-darkroom in the Time-Life Building, seeing Eisenstaedt regularly. As a true New Yorker, he never left his Queens neighborhood and now lives in the building where Eisenstaedt lived. But it's the fishing picture that Freni remembers most fondly.
He often states how "one two-hundredth of a second" can change a person's life. That one two-hundredth of a second certainly changed his.
Dave Paone is a Long Island-based reporter and photographer who has won journalism awards for articles, photographs, and headlines. When he's not writing and photographing, he's catering to every demand of his cat, Gigi.