Twenty years ago, during a difficult time in her life, artist and former legislator, Liz Pike, moved into a friend's rental home in Camas, Washington. She was told that this place would be her "Shangri-La," a peaceful place of her own that she could call home. Not long afterwards, Pike met her current husband, an ex-Delta airline pilot, whose best friend had an airport in Washington with the same name as her home: Shangri-La Airport. Considering their connection to be predestined, Pike was determined to call her farm, Shangri-La.
Greatly influenced by James Hilton's version of Shangri-La in "Lost Horizon," Pike aimed to materialize Hilton's fictional paradise through the gardens she created. "We wanted to create a welcoming, peaceful, tranquil setting," she said. But at the time, Pike was living on a double city lot in Camas. "I had chickens and raised beds everywhere." Her husband looked around and decided she needed a proper farm. In 2010, they bought one.
Growing up on a dairy farm, Pike was well-accustomed to hard work. Eventually, she left her family farm in pursuit of her future, but she always dreamed of returning to the simple, tranquil life she once knew and loved. "At this point in my life I just want to stay here and paint, and take care of my farm," she said.
For Pike, living on a farm is one of the most satisfying things in her life, as it allows her to experience the immediate gratification of farming. "In a corporate environment, you might be working on a project lasting three or four years, and it just takes a really long time to see something to fruition," she explained. "On a farm, you spend an hour on a part of your garden, and all of a sudden, it looks really good."
Putting Politics Behind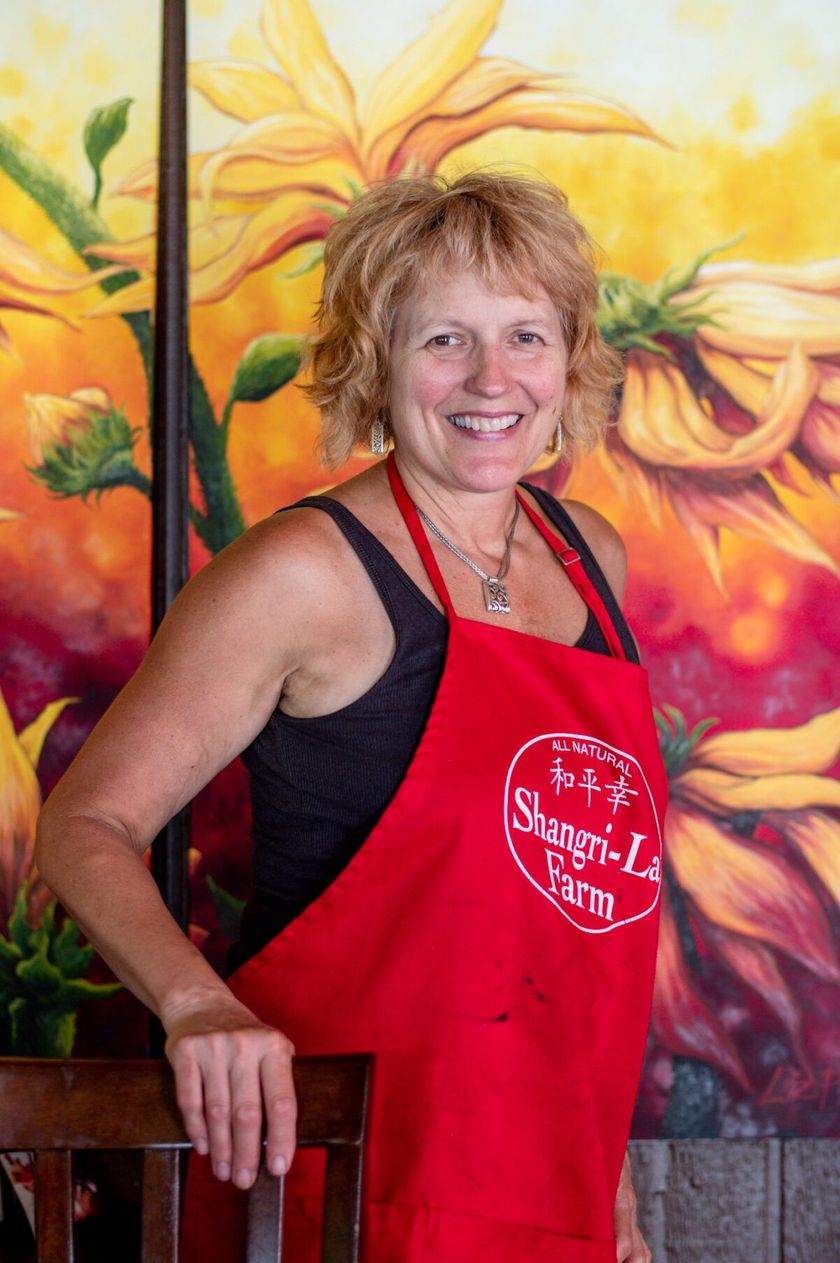 Pike was a member of the Camas City Council from 2003 to 2007, and a state representative for Washington Clark County from 2013 to 2018. In January 2016, she published an open letter, declaring her resignation from the political sphere to embark on a new chapter of her life. She wished to dedicate all her efforts to her farm, and to raising animals.
Her resignation also allowed her to focus more on her other passion—art. From a young age, Pike painted as a way to relax. "I painted a lot while I was in the legislature, just to escape Olympia. I would come home on the weekend, and just immerse myself in the farm, and my art, just to get away from all the negativity of politics," she said. Her paintings have been on regular display at the Camas Gallery for the past five years.
Pike regularly features her love of nature in her oil paintings. She enjoys painting sunflowers, mountains, and sometimes, still life. Today, she offers affordable, short oil painting classes, referred to as "Sip and Paint" workshops, in her converted garage art studio. She accepts no more than nine people for any given class, and spots are allocated on a first-come, first-serve basis. Guests have a choice between morning or evening classes, and Pike provides fresh-baked treats, including her homemade truffles, as well as either wine or coffee. The workshop cost covers all art materials, complete with easels and aprons.
Ten years in, Pike is now a certified Master Gardener, providing regular contributions and demonstrations in the Clark County Master Gardener program. She has also been beekeeping for the last five years and owns several different colonies. "I plant a lot of oregano around the farm because the flowers from those herbs boost the bees' immune systems, and they're healthier," she explained.
Painting on a Real-Life Canvas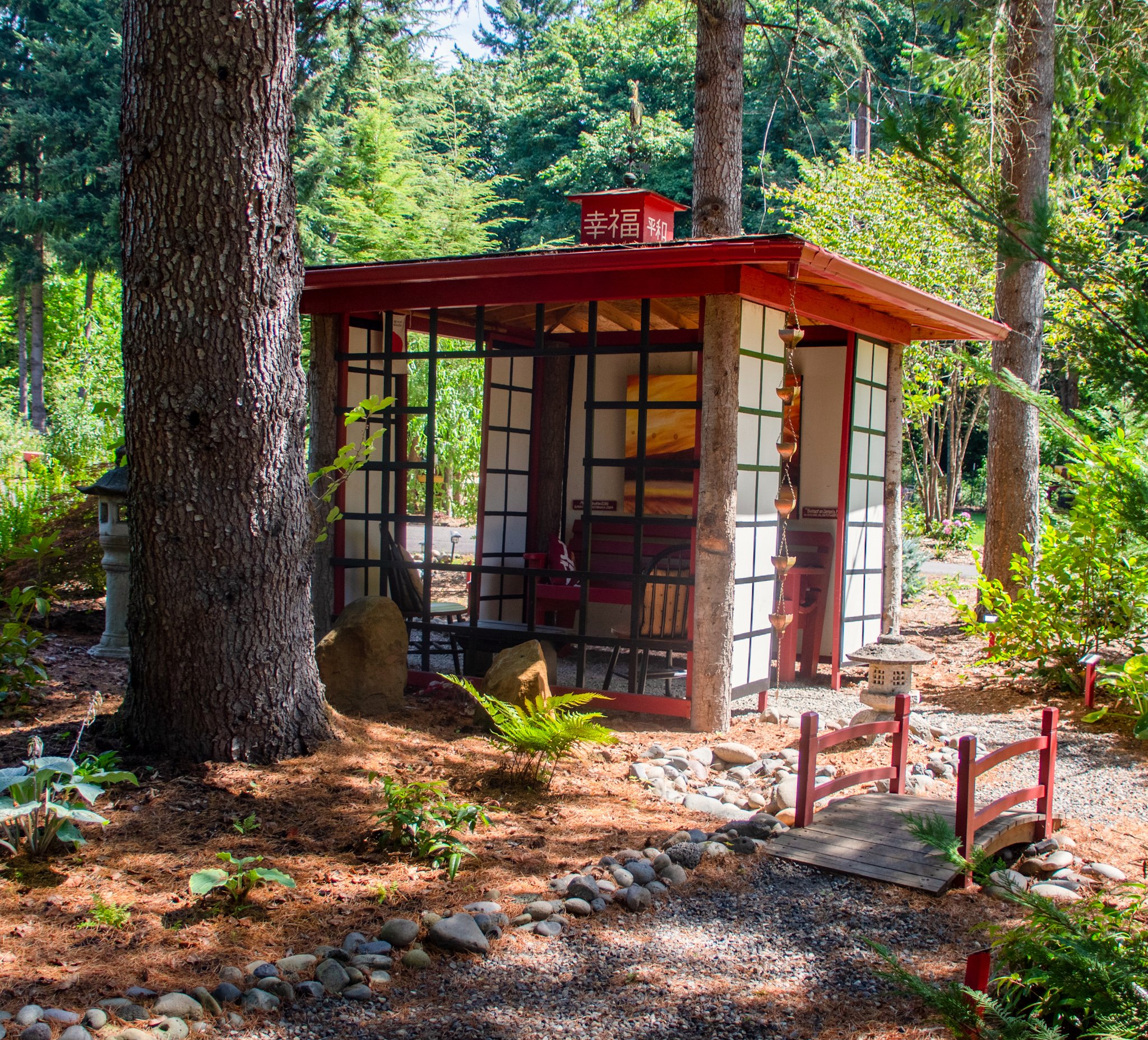 The farm itself serves as a secondary canvas for her to unleash her creativity. Initially, the farm wasn't in great shape, with an abundance of thick, 40-foot-high blackberry bushes, and weeds. There were molehills, unkempt pastures, abandoned possessions from previous owners, and plants starved of water. Due to her strict organic gardening practices, Pike had to dig out the bushes or pull them out by hand. In doing so, she discovered many sickly rhododendrons that had been buried away for years, which she then carefully nursed back to life.
Pike takes great pride in her organic gardening practices. She adheres to an all-natural, organic approach to gardening, using her chicken manure rather than commercial chemical fertilizers. She pulls or digs out any weeds on her property and makes a continuous, conscious effort to use many native species of plants to encourage wildlife, and create a healthy, balanced ecosystem. "We don't use any sprays or pesticides for the simple reason that I don't want to eat poison," she said.
Today, the farm is a beautifully-crafted work of art, with paved pathways leading to different areas of the garden. A Japanese tea house sits in the front of the property, complete with a little bridge, right across from the farm stand where Pike regularly restocks her fresh produce and baked goods for sale: from blueberries, green beans, plums, squashes, and tomatoes, to scones, jam, chocolate truffles, eggs, and even kombucha.
Transforming a nearly two-acre property was no easy feat. "My advice to somebody starting out would be to just do one little project at a time," she said. Working on small areas, particularly those areas one frequents the most, is a good starting point. For Pike, those areas were around her work shed, where she keeps her garden and woodworking tools. So, she beautified that area with rose gardens.
Peace and Happiness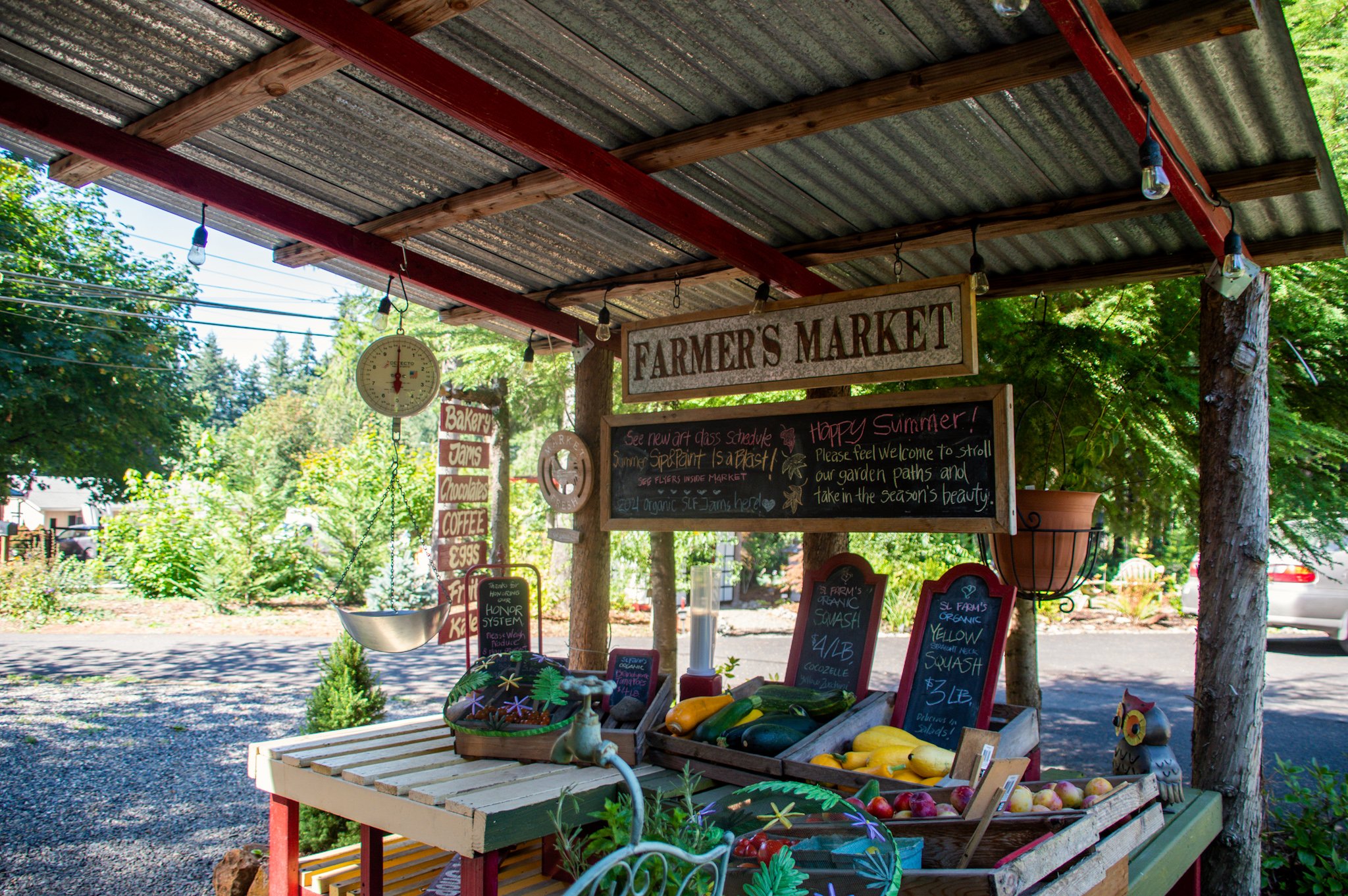 Neighbors and local visitors are often impressed with the beauty that encapsulates Shangri-La Farm. "There's a lady that lives about a mile from here, around the corner, and she's been living over there for the past 15 years. She drove by this place when it looked bad," said Pike. She started crying when she drove by and saw the new gardens.
Much of the charm comes from Pike's creativity, where she often uses old items and reworks them into new ones. One instance was when she took some limbs off an old cedar tree and turned them into posts to hold up the four corners of her Japanese tearoom, and even her grape arbor. She has also recycled her old campaign signs to use as posts.
"The theme of our farm is peace and happiness," said Pike. Walking around the beautiful paths, visitors can experience the soothing power of nature surrounding them. Visitors come to Shangri-La Farm for the farm stand but stay for the garden's tranquility. Benches and chairs are scattered all around the perimeter of the garden, providing ample seating for visitors. Oftentimes, Pike said, they will come over with a cup of coffee, and just sit outside.
Pike has even started to label all her plants in the garden, in the hopes of someday transforming it into a true botanical garden. "That way people can wander around, and there'll be a listing of all the plants in that color," she said. Paths are carefully designed cyclically, allowing visitors to wander around and end up back where they started.
Pike even has her own method of marketing her farm stand. Painted wooden signs hang on hooks and eyes along the entrance to the farm, visible to roadside drivers. The signs are all interchangeable, and serve as her roadside marketing system, alerting visitors about what produce and goods are currently available.
An Everblooming Garden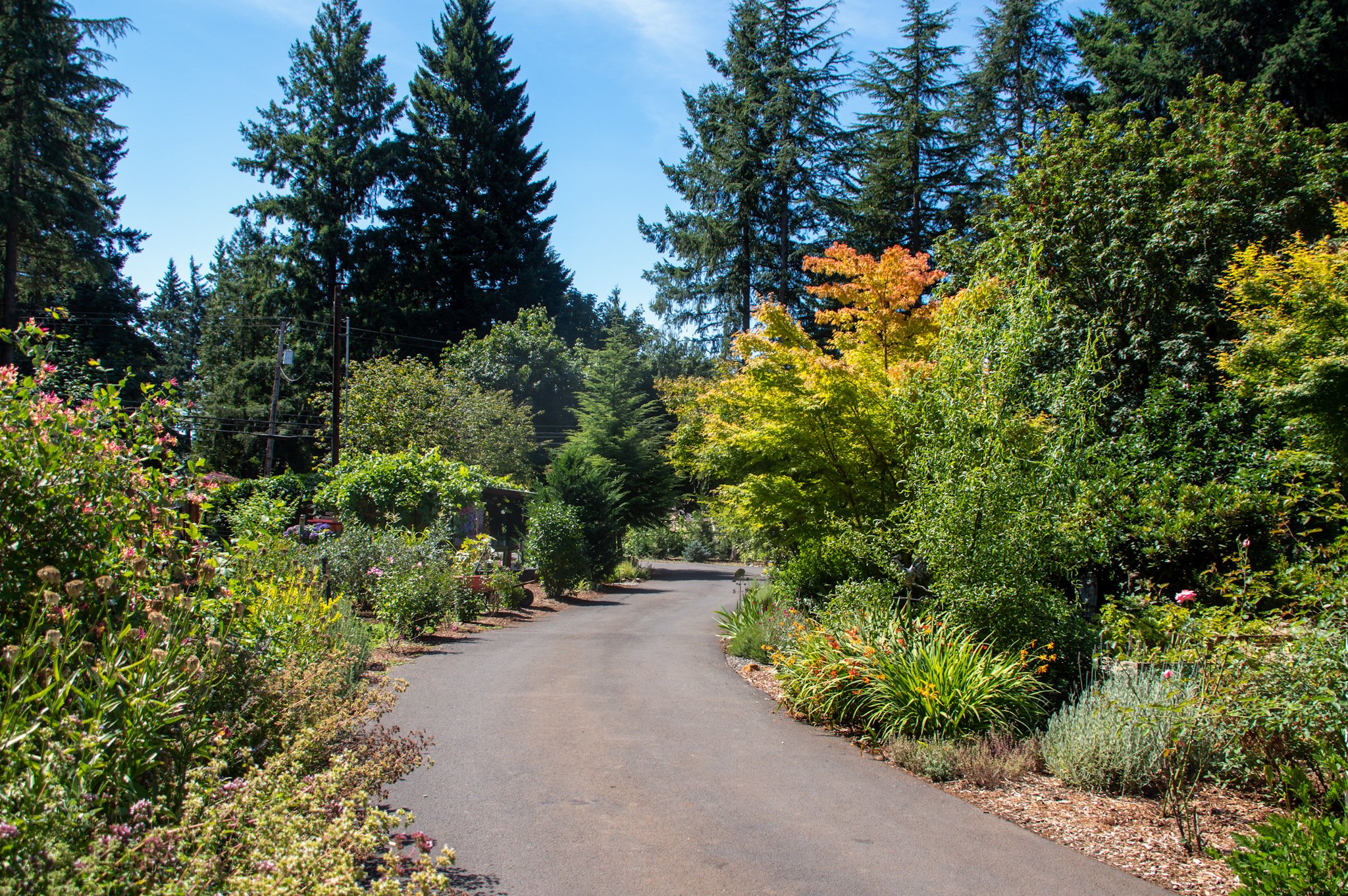 Books serve as an important source of inspiration for Pike. A treasured favorite is "The Layered Garden" by David L. Culp. The book discusses garden design ideas for year-round beauty, and is inspired by Brandywine Cottage, Culp's beloved two-acre Pennsylvania garden. Her favorite part of the book is when Culp discusses coming up with garden plans.
The secret to a great garden is to always try to incorporate the various features that already exist in the space for the garden, so when drawing out a plan, it's important to draw it out once, and then put it away in a drawer. Then, go out into the garden space and look at the features already there, like a tree, or an old fence.
"If you strictly go by the piece of paper and the plan, you're going to miss all those things that you can take advantage of that are already out there," Pike explained. She said that for her farm, that element was the old mother maple tree, positioned almost in the center of the garden. It wasn't originally part of her garden plan, but once she stood out there, she realized the importance of the old tree, and knew she had to keep her there.
The book also encourages planting perennials and discusses the design technique of layering: interplanting different plant species in the same area, so that when one finishes blooming, another one will begin. This results in an everblooming garden, full of colors that continually change throughout the seasons. This is precisely what Pike incorporated in her garden, choosing to plant mostly perennials, allowing her to always have something blooming, and providing important forage for her bees. Another bonus for her is that she can create bouquets for her table all year long, even during winter.