Jose Lemus was facing a new challenge on a recent workday. The custom order from one of Dana Creath's two dozen showroom partners nationwide called for a standard table lamp from the product catalog to be reconstituted as a floor lamp. In his 21 years as a maker of Creath's wrought-iron lighting fixtures and home accessories, Lemus has fabricated anything and everything. He indicated the present job would be no problem.
"He's an artist," said company president Greg Perkins, who was showing a visitor some samples. At Lemus' disposal were a variety of welders and basic and advanced metal-forming tools. While wrought-iron is a 4,000-year-old craft, and hammers, tongs, and anvils have not relinquished their primary importance, the latest machines do add speed and flexibility.
Using a plasma cutter, a kind of torch that slices patterns in sheet steel as if it were cookie dough, Lemus produced the blank for an ornamental piece to be affixed to a lamp. The blank had a general resemblance to a leaf, but it was flat and featureless. Lemus then heated it up. (A six-burner forge stood at the ready just outside the fabrication area.) Then, he worked with tools and imbued it with convexity such that the leaf became symmetrically cupped underneath, like an arched hand. Going another step, he created surface texture, a network of creases that brought the form to life. After painting and an antiquing finish, the ornament would possess a vibrancy that's unlikely ever to be duplicated in a mechanized manufacturing process.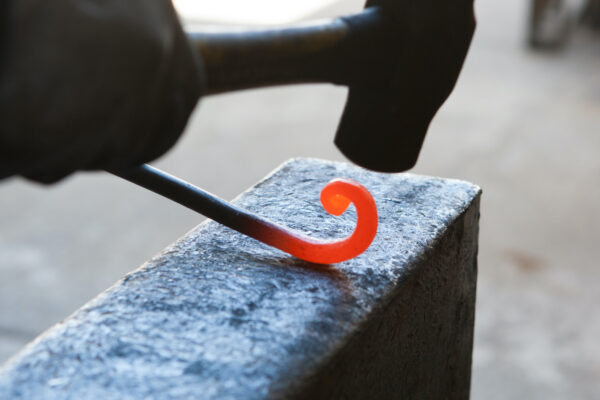 Lighting in its many flavors—chandeliers, table and floor lamps, flush-mount ceiling lights, sconces, exterior lanterns—is a Dana Creath specialty, but the company's catalog also includes tables, mirrors, and pot racks. The 15-person staff operates in a 12,000-square-foot workshop within a nondescript light-industrial district of Santa Ana, the seat of Orange County. Thanks to a nine-foot-tall storage rack full of tools, they can turn out any catalog item, reproducing the exact curve required of a piece of steel. The craftsmen do more than bend metal; Perkins, who has been running the company since 2013, takes on the glass work himself, fusing, rippling, or slumping the panes in either of two kilns. Meanwhile, over in the shade department, two workers fashion the lampshades by hand. There's even a candle-making studio.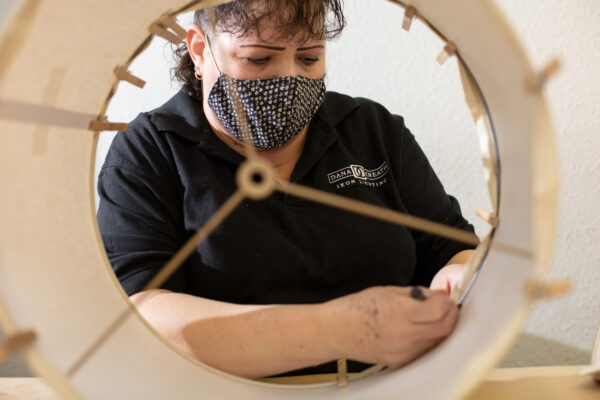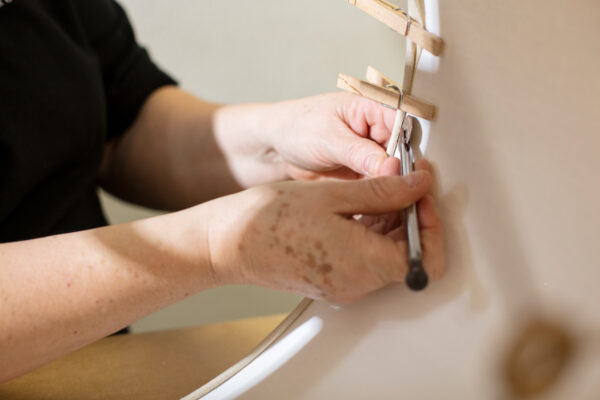 The final pieces are sold wholesale to showrooms and designers at prices ranging from several hundred dollars to well into five figures. On a recent visit, a seven-foot-diameter, 20-light chandelier—custom designed for a residence in nearby Irvine—neared completion, as well as nearing the top of the price range.
The story of Dana Creath goes back to 1967. After serving in the United States Navy, the company's namesake returned to Orange County and went to work in a lamp shop. A year later, Creath opened Custom House Lighting, which is still going on at Newport Boulevard in Costa Mesa, six and a half miles from the workshop. After the retail location came the first production workshop, then located in Laguna Hills. Custom orders from hotels and restaurants flowed in during the 1980s, leading to growth. The operation moved to Santa Ana in 2008 and was eventually turned over to Perkins, who is married to Creath's daughter, Monica. Creath has since retired and devotes himself to fishing at his home in northern Idaho. Greg and Monica have been exploring a transfer of the business that would result in 51 percent of ownership being in her name.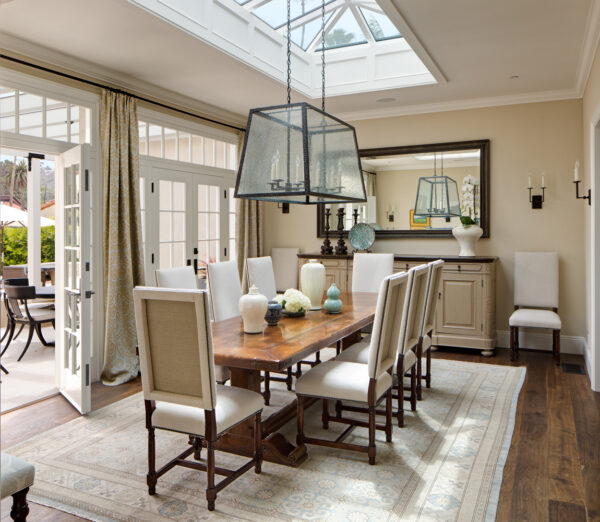 "Most of our employees have been with us at least 20 years," Perkins said, introducing production manager Miguel Sepulveda, who was fashioning a simple tool for the shade department to use in tucking shade edges out of sight. Sepulveda, 45, came from Arandas in the state of Jalisco in Mexico when he was a teenager, and for a time, he worked in construction putting in concrete driveways.
"I didn't mind the heavy work," he said. But construction activity faded after the dot-com-era bust. "I decided to look for factory work." He started in Dana Creath's paint department some 23 years ago and has since poured his soul into every job in the shop.
After the blacksmithing in the fabrication shop, there is painting and antiquing, wiring and finishing, and final assembly and testing with bulbs. Everything gets packed in triple-wall cardboard for shipping.
The Dana Creath catalog nearly exhausts all possibilities in traditional designs, with an extensive offering of Renaissance-inspired chandeliers as well as fancy intricacies in all departments. Yet the listing of recent products shows the company updating some traditional designs—and the push extends into product names as well. The exploration of color and form is best seen in a table lamp with a stand that is a vine wrapping around a gracefully curved branch. The startling use of bright yellow paint distinguishes the creation.
"I thought this could work in today's climate," Perkins said. The design was resurrected from decades past but modernized with the splash of color. Products were always identified by alphanumeric tags, but Perkins had another idea. "In order to give some of these fixtures more personality, we would start naming them to bring them to life." Hence, the lamp is called "Artemis," after the goddess who loved the woods and mountains and led other Greek gods on the hunt.
Plenty of other possibilities lie ahead. For one thing, Perkins sometimes thinks about finding a glass blower from the Laguna Beach community of artists and collaborating on handmade creations in a new realm.
"We're looking to grow," he said. Demand has remained consistent in the Southwest and on the two coasts. "Most of our business is probably around the perimeter of the country." Still, there's opportunity for expansion of an ancient craft with products for use and appreciation in this present age when Siri can control house lights.
Ronald Ahrens's first magazine article was 40 years ago for Soap Opera Digest. Nowadays he's on a 15-year run with DBusiness ("Detroit's Premier Business Journal"). Ronald lives near Palm Springs, California, where he struggles to understand desert gardening.