On a warm yet cloudy day in late May 2021, Mike Arguelles and his helper, Tim Brown, were on their typical voyage of four-and-half miles by boat from Biloxi, Mississippi to Arguelles's oyster farm off of Deer Island. On that particular day, they harvested 900 oysters for nine local restaurants. After lifting the cages from the water and spraying them off, muck flying across the boat, the oysters were spread out and counted by hand to fill each bag. Each oyster was inspected and dead oysters, which had opened, were tossed. What started out as a hobby has become a thriving business, the French Hermit Oyster Co., providing boutique oysters to distributors, restaurants, and shuckers.
It started with the introduction of a training program to teach off-bottom oyster farming—the practice of cultivating oysters via mesh containers that are held above the seafloor. With harvestable reefs depleted due to natural occurrences such as hurricanes, the need to educate oyster farmers on off-bottom oyster farming became critical to ensure the viability of oyster aquaculture.
A Local Business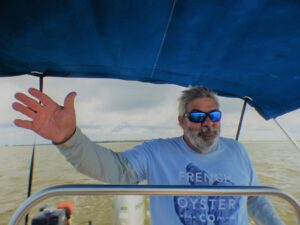 Mike Arguelles always has a good story. He's enthusiastic about harvesting oysters and is quick with a hearty full-belly laugh and a sparkle in his eye that reveals his playful personality. Arguelles said he was "Biloxi born and raised," but spent about 10 years in Memphis where he met his wife, Anita. In 1999, the couple moved to Biloxi. Arguelles wasn't working at the time, so he put his skills to work building the couple's home on the river. This led to a marine contracting business called Arguelles Marine Contracting, Inc., building piers, bulkheads, and boathouses, which is still in business. Anita works as a marketing and communications specialist at the University of Southern Mississippi's Marine Education Center. Even though they both were employed at this point, Arguelles said, "When we had the chance to take the oyster aquaculture class put on by the Mississippi Department of Marine Resources in 2018, we were among the first to sign up to learn about off-bottom oyster farming at the Deer Island Commercial Aquaculture Park."
After completing the class, they were given 12,000 seeds (tiny oysters) to fill their cages and wait for them to mature. These seed oysters are different from wild oysters, as they are hatchery-reared. The education and the chance to lease water from the state created a rewarding opportunity for the Arguelles. "It's very rewarding when you can go and feel like you really accomplished something. I get excited every time we harvest because once they're bagged and tagged, I know we'll be feeding the best boutique oysters to diners."
Mississippi's Oyster Industry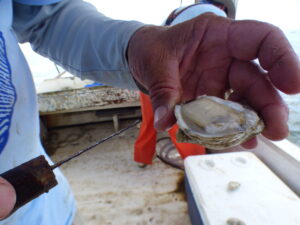 Utilizing some federal funding to launch the boutique oyster industry, the state of Mississippi created programs to educate potential and current oyster farmers about off-bottom farming. The goal was to give participants the opportunity to operate and maintain these oyster farms which were both economically and environmentally sustainable, increasing Mississippi's annual oyster harvest.
Although oysters are traditionally grown on reefs, because water quality would drop and reefs would be closed, the industry trend started to shift toward off-bottom oyster farms. To facilitate the introduction of off-bottom oyster farming, an area between two rivers was selected for its better quality of water for growing oysters.
The Arguelles, like other oyster farmers, completed a class through the Mississippi Department of Marine Resources to get a commercial oyster license for off-bottom aquaculture. The couple leased one acre of water from the state of Mississippi. Twenty participants per year take part in the two-phase training program. Phase one consists of both classroom and field education that includes aquaculture, business operations, and other necessary skills for operating the business. The second phase gives participants hands-on training to practice farming methods.
Benefits of Off-Bottom Oyster Farms
Whereas wild oysters on reefs often become prey for mammals, off-bottom oysters grow in meshed cages that keep predators out, while allowing space for the oysters to mature. Growing them off the bottom also keeps the oysters from burying in sediment. It's a method that allows oysters to grow in waters where they wouldn't normally survive.
Oysters, like wine, are known for the flavor they derive from their habitat. The bivalves are affected by a variety of factors including "currents and tides and the rainfall, temperatures, and the mineral content of the region," Anita said. Even the same oyster species, if grown using the same techniques, will have a different flavor dynamic based on where it is grown. The Arguelles believe their delicious boutique oysters are a result of tender care and the salty, nutrient-rich waters of the Mississippi Sound.