A few years ago, Bruce and Ben Wolfgram started debating about how to design the ultimate shot glass. Pierced with a bullet, a combination of the father and son's two favorite things—guns and drinking—the pun-fueled drinking vessel would basically defy gravity and challenge logic with its curved exterior and heat-embedded bits of artillery. Bruce Wolfgram, a retired artist who had years of experience in creative design, was up for the task. After a lot of research, and more than a few piles of shattered glass, BenShot was born.
"This was more or less a project to break my dad out of a retirement funk," noted Ben Wolfgram, an engineer by trade who was working at a robotics company in Philadelphia when the concept was launched. "He toyed around with it in his garage; torching and molding the glass until he got it just right. He made a bunch and brought them to a local gun show. They immediately sold out."
News of Wolfgram's glassware spread rapidly via word of mouth, and Bruce spent much of his time traveling to gun shows throughout the country. As sales increased, the father-son duo decided to create a website and bring their products to a wider audience. Ben quit his job, moved back to his Appleton, Wisconsin, hometown, and, together with his father, opened a glass workshop on the grounds of a repurposed furniture factory formerly owned by Thomas Edison. The vintage workspace and rural Northwoods surroundings provided a unique glass-working environment.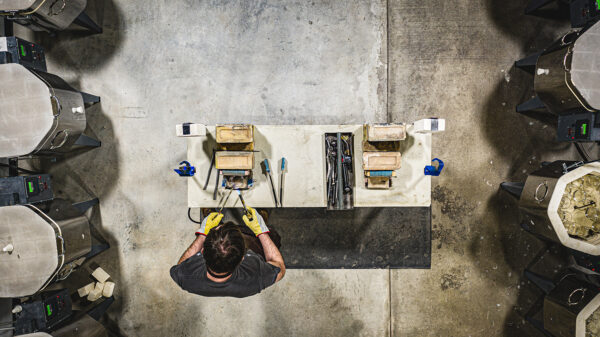 "It was our goal from the start to make everything here in the United States," Ben Wolfgram said. "We wanted to create jobs in our hometown and source all of our raw materials from right here in this country. In five years, this business has grown from a one-man operation in a garage to a full-time staff of 40 employees working in a 50,000-square-foot production facility. Nothing is outsourced, and everything we use—even our cardboard packaging—is made right here in the U.S.A."
Embedded with a real, lead-free, .308-caliber bullet, and handcrafted with glass furnaces and lots of heat, each two-ounce shot glass takes about seven hours to complete. Etched and personalized upon request, some of their best-selling varieties include tumblers emblazoned with the American flag or printed with the Second Amendment. The BenShot inventory also encompasses pints, rocks, and wine glasses, and there are decanters and beer mugs, too. Just this past year, the Wolfgrams extended their offerings, embedding their glasses with miniature fire axes, fishing lures, broadhead arrow tips, golf balls, and hockey pucks. Custom orders have included glass sets embedded with pinballs, guitar picks, and a variety of nuts and bolts.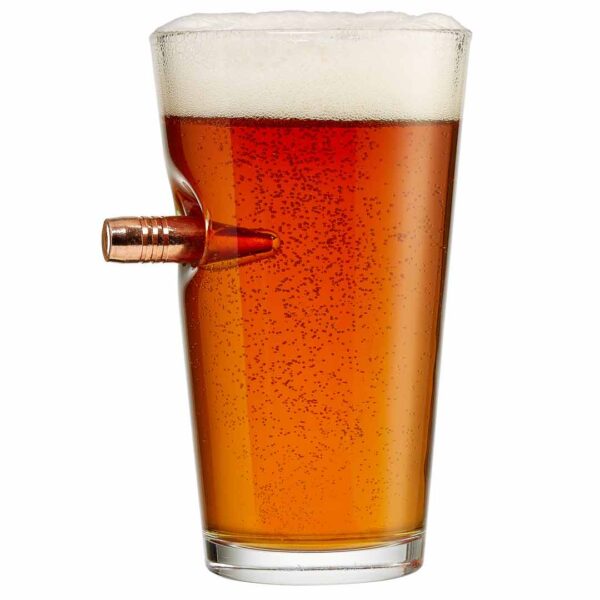 "We wanted to make other designs that would represent other people's passions and professions," Ben Wolfgram said. "Guys are hard to buy for, so we started brainstorming about different likes and pastimes. Golf was an easy one and made a good corporate gift. We started thinking about our first responders because one of our employees was enrolled in the fire academy."
Sketching out a small fire ax in-house and modeling it in Computer-Aided Design software, the younger Wolfgram printed it in 3D and then made a mold to cast the ax out of molten pewter. "It's become one of our bestsellers," he said. "And the fact that it's made here from start to finish—like all of our products are—is probably one of its most attractive features."
BenShot's sales have since skyrocketed. Their craftsmanship and customer service have propelled the brand into a multi-million-dollar sales range and forced a relocation to a more spacious factory. Still located in Appleton and selling the majority of their products on BenShot.com, the company also markets its wares on Amazon.
"We have a lot of engagement from small communities across the country," Ben Wolfgram said. "Firefighters, police, and military make up the bulk of our buyers, but all of our customers appreciate the fact that the product is handmade right here in the U.S."
And the company places great importance on giving back to the community that supports it. "We are honored to team up with like-minded nonprofit organizations," he added. "To date, BenShot has donated to more than 300 nonprofit organizations throughout the United States. We care deeply about the military, law enforcement officers, first responders, and mental health causes."
For Wolfgram, it's an extension of his product's top-tier standards. "Our success hinges on the quality of our products and whether our customers get everything they were promised," he concluded. "Our philosophy is to make an innovative product while still keeping jobs here in the U.S. We enjoy what we do, and it's our goal to share our enthusiasm and excellence with as many people as possible."
Jessica Jones-Gorman launched her career in journalism at a New York City daily newspaper more than 20 years ago. She has worked a general news beat, covered fashion, and written countless features about people who inspire and lead.