When disaster strikes, Shane Hobel is the guy you want by your side—or better yet, the guy you want to have taught you how to deal with it.
A former stuntman, bouncer, and motorcycle instructor, Hobel has carved out an interesting route to running Mountain Scout Survival School in upstate New York. Two influences have shaped him since an early age: nature and martial arts. His reverence for nature was instilled by his family and Native American heritage, as well as many elders along the way. He also holds a fifth-degree black belt in traditional Okinawan karate.
He is one of five elite trackers in a nonprofit national tracking team founded by Tom Brown Jr. to find missing persons, including lost children, disoriented hunters, and fugitives. (Once, he tracked down a black panther on the loose in the Palisades, New York.) With no hesitation to crawl and wade through any environment, he's also the man people hire to look for breaches in their home security; he has also been called on to consult for the U.S. military.
Hobel started teaching survival skills to children in after-school programs, then expanded to adults. Successive waves of interest came from "macho" types, outdoor enthusiasts, survivalists, and families. But the largest growing demographic over the last four or five years has been women.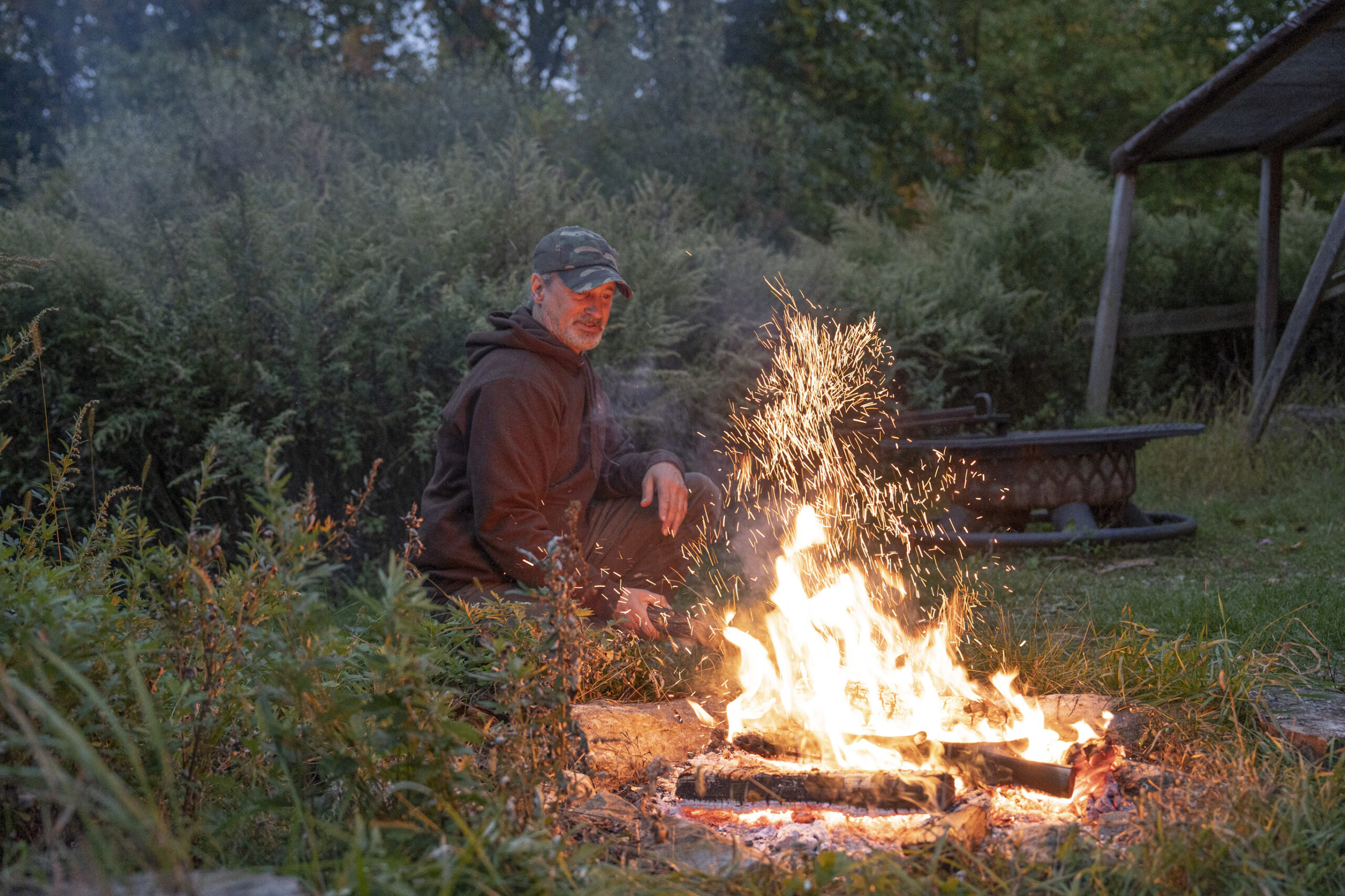 Driven by a mama bear instinct, women have grown unsettled by a world that seems anything but predictable, Hobel says, and are taking the initiative on behalf of friends and family. "One woman said, 'Can you take my husband for 30 days?'" he remembers.
"There's a quiet desperation of people wanting these skills. They don't want to be labeled as doomsday preppers or conspiracy theorists—they just know there's a simple phrase: 'Being prepared is being responsible.' Somewhere deep down, there's a feeling that 'you can't expect anybody to come and save you. You just have to take it upon yourself to do these skills,'" he said.
Don't Panic
It can be easy to feel panic-stricken at the thought of emergency preparedness. But as Hobel points out, those who have adopted a proactive approach toward preparation are already on the way to a healthier mindset.
"If something goes wrong, it's not going to be a surprise, it's an anticipated change. … With people who have skills, it becomes just a nice vacation, something that is not so terrifying. It doesn't have to be extreme survival," Hobel said.
When it comes to children, it's especially important that "if something happens, this is not a crisis. This is an exciting adventure." Be upbeat and positive, and you'll see that your child is able to keep up with you. "But the moment the child realizes it's a disaster, they're not going to give you that energy."
If you suspect a disaster is about to take place, "Jump in the car, go to Jersey, go to some Airbnb, go have some strawberry shortcake. If nothing happened, you took a day off, good for you. But if something did happen, you're at an Airbnb with strawberry shortcake and you're watching the world burn from a distance, but at least you're smart enough to get out on the first wave.
"So your approach and how you go about it will be the attitude of success. If I start off as a victim, so I will become."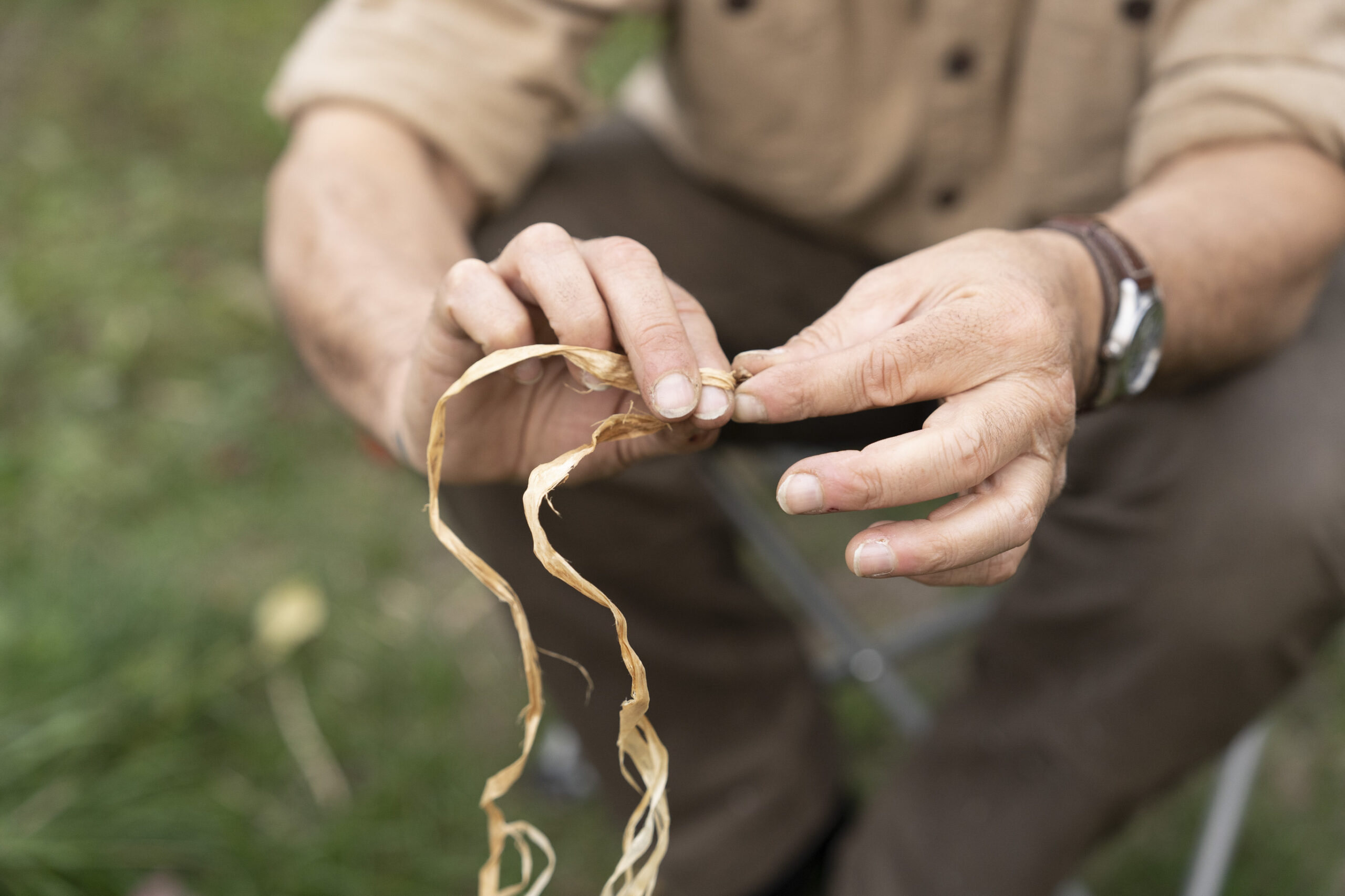 Survival Skills Are Ancestral Skills
Under a fall canopy of beeches and maples, Hobel muses about the current state of the world. His reference points: raccoons and squirrels.
In an era of distraction and modern conveniences, it's easy to become passive, going about life immersed in technology but not necessarily connected to other people. Like raccoons, we are distracted by the newest and shiniest toys and gadgets.
Squirrels, however, think about the future. In the fall, "they're making provisions now for something that is about to happen. Quite more often than not, they dig up somebody else's nuts. It's a symbiotic relationship, but their medicine is thinking forward. And making these provisions is why people are coming here," he said.
Hobel is hopeful that people are bringing along friends and family. "It's great support because you can't do this by yourself." Going alone would require a very high-level set of skills, he explained.
Mountain Scout Survival School covers typical survival school topics such as shelter, water, fire, and food, but it also teaches tracking, awareness, and movement. (There are legendary tales of men and women who could survive in the wild and move about undetected.)
The outdoor camp at the school shows some of the students' work: strong lashings to make fishing spears, and tongs ("fancy chopsticks") to move coals onto short stumps to form drinking cups. As they burn, they create a hollow that can be polished with a river stone. Scale it up and you can imagine how to make a canoe.
"Nature is the great equalizer—fire, cold, hunger, bears—none of those things [care] what your religious status is, your political status, your job title," Hobel said.
The skills that Hobel feels are his duty to preserve, protect, and pass on are actually not survival skills at their core, but ancestral skills.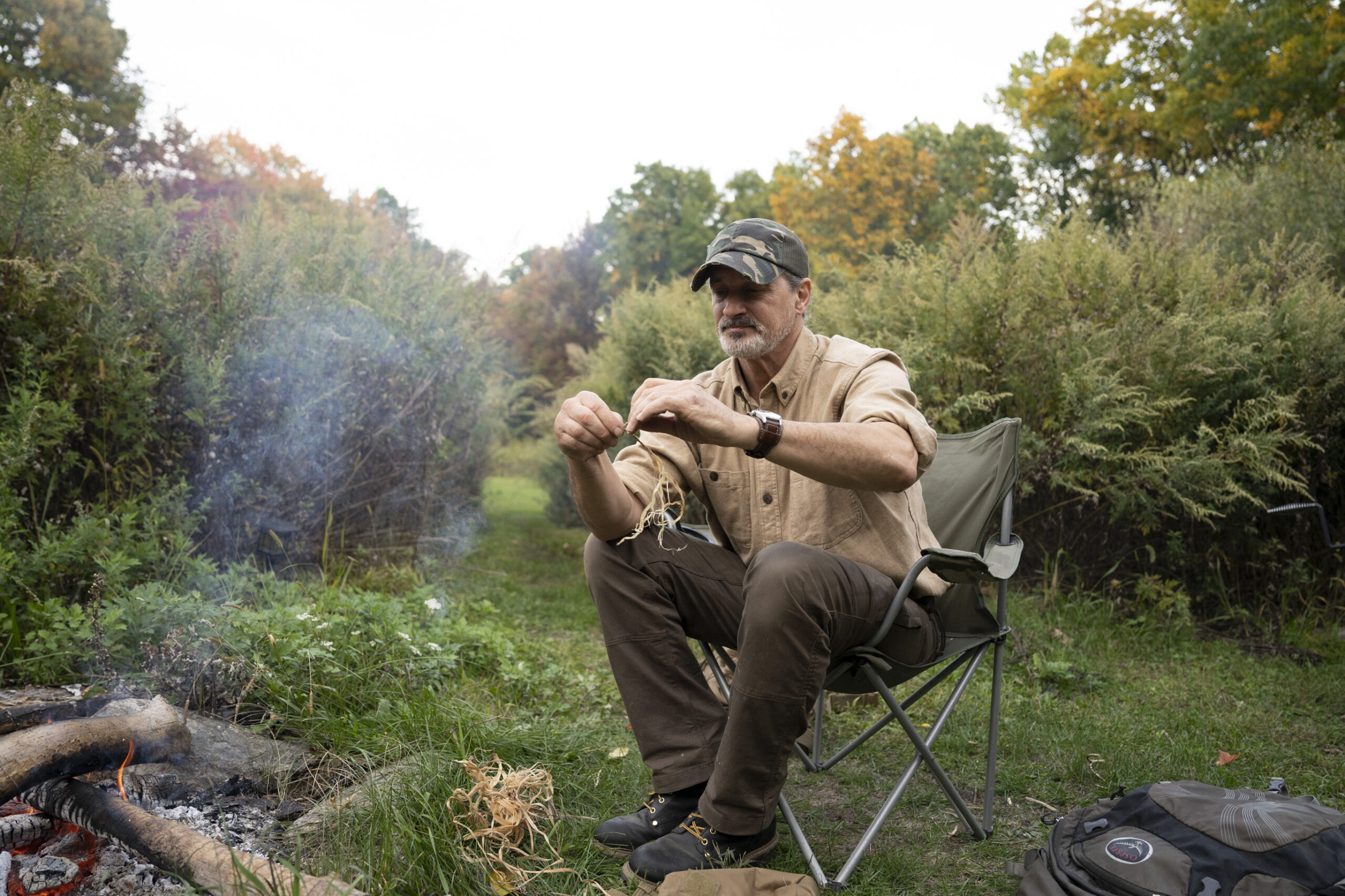 These skills were "extremely sophisticated," though coming from "what we deem a very primitive time. We are living in a very sophisticated time but we are in fact quite primitive," Hobel said.
Some Native American prophecies mention a time of upheaval on Earth, marked by food and water shortages, diseases, natural and man-made disasters, and war. After a period of chaos, humanity will find itself in a primitive place again, left to rely on these ancestral skills.
"I do this because I want people to be closer to the earth and live a beautiful, harmonious life. I don't do this to prepare them for the Armageddon. But they're empowered just in the event of."
At his school, people have "a physical space by which they can come, be around the medicine fires, learn these empowering skills."
 Traditional Knowledge
Ultimately, Hobel wants to pass on the knowledge of these ancestral skills to children, explaining, "I want to put this back in the elementary schools and junior high schools, where it belongs."
Hobel, who works seven days a week, has no shortage of ideas and projects—though not enough help and funding to make it all happen. He also has a nonprofit, Arrows of Honor, for veterans and first responders, that aims to address PTSD. He envisions them coming around the fire, becoming instructors, and then going back to their hometowns to teach children and adults these skills—and be looked up to.
"They have to be returned to ceremony, back to fire, back to being a warrior again … to realize that all of that trauma is not theirs—it was theirs to experience but it's not theirs to keep or hold on to."
In the end, it's a journey of self-discovery.
People come to Hobel's school thinking they'll just learn about shelter, water, and food. "But what they realize is, 'this is a journey to myself'—because it's you that has to make that fire and shelter. You have to get out of your own way to be successful."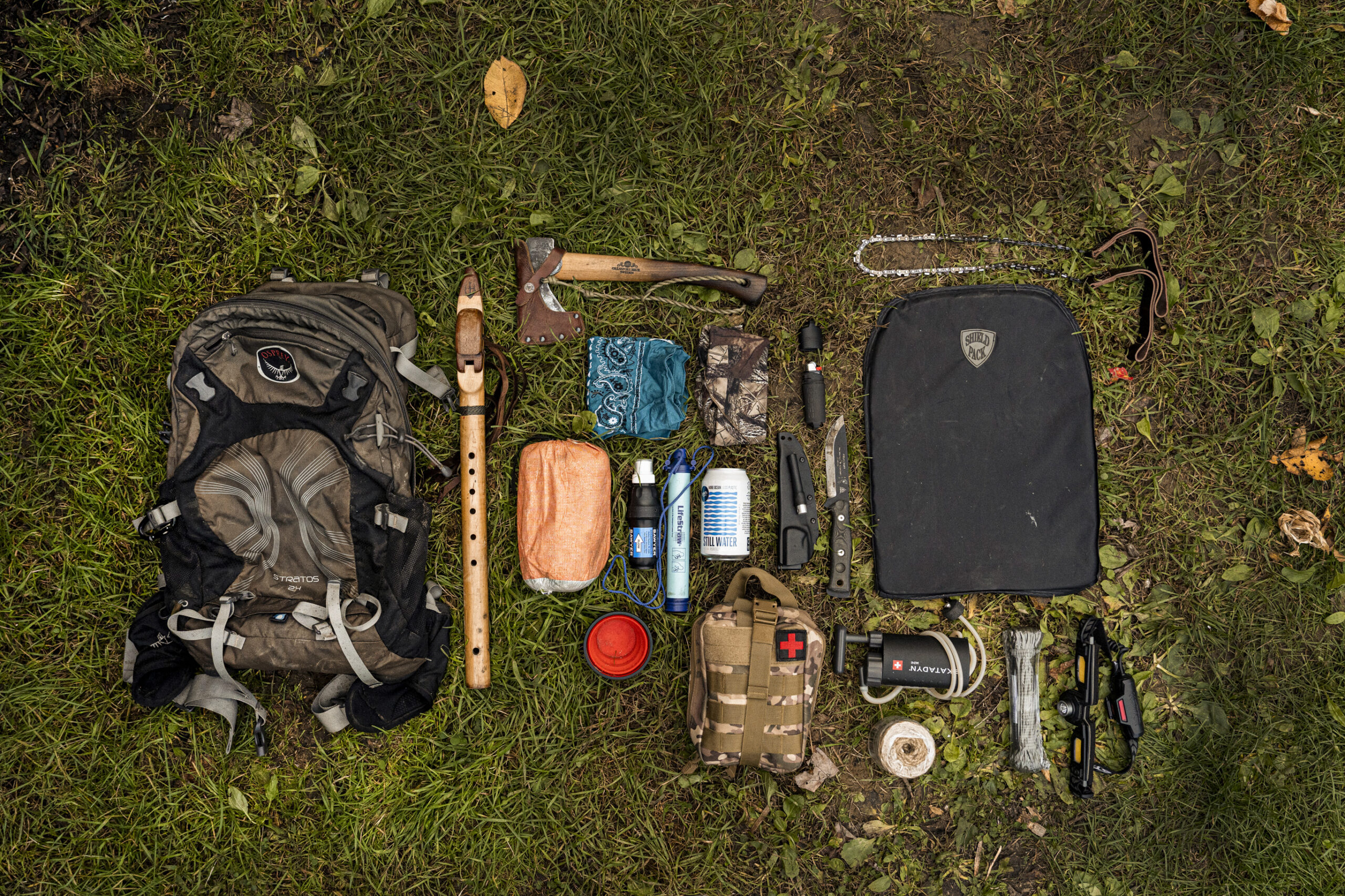 Getting Out of Dodge
Unusual for a survival school, Mountain Scout Survival School, in Hopewell Junction, New York, two hours from Manhattan, teaches both wilderness survival and urban emergency preparedness—a hot topic, given 70 percent of people currently live in urban areas.
"The subject matter is overwhelming," admits Hobel, who consults for private groups as well. In quaint gatherings in brownstone apartments, small groups come together around food and wine, focused on developing a solid plan to get out safely should a disaster happen.
The skill set required in the city is different from being out in the wilderness. The bottom line is, there is no sustainability in the city; it is wholly dependent on supplies coming in. In case of danger, Hobel advises city dwellers to get out with the first wave of exodus. Though you can stay for a little while, "eventually you're going to have to go. My suggestion would be to go with the waves and don't go alone; if you're a solo operator, you're just a target. Remember that the most scary individual in the world is a hungry person."
The topics include communication options and protocols, plans detailing meeting points and how to get there, resources along the way, safety, and the big subject of go-bags—emergency backpacks to take when you leave home.
In the aftermath of 9/11, Hobel saw many companies sell generic, sub-par go-bags. He still urges consumers to be wary and do their research, since these kits aren't adapted for your personal circumstances.
Go-bags can range from a 24-hour bag designed to get you by with the bare minimum, to the 36- to 72-hour bag (the most common), to what Hobel calls a "sustainability bag," which can sustain you indefinitely—as long as you have the skills.
You also need to consider the time of year, and know your plan: where you're going, who's going with you, how fast or slow you need to go to accommodate the slowest member of your party, and whether you can replenish items along the way. Make sure to have a couple of exit routes in mind, and know how you're getting to your destination.
Every member of your group of family or friends should have a go-bag, "packed and identical." Crucially, get out and practice with it.
And learn the skills: If you lose your go-bag, "your skills don't go in the bag and they stay with you; for example, first aid and CPR—start with that. You can help yourself and then you can help others," Hobel said.
From January Issue, Volume 3